It's finally here! The Darling Hearts Quilt Pattern has finally arrived. Yes, I'm releasing a heart quilt AFTER Valentine's Day. But that's okay. Hearts are timeless and can be had all year long. There's no age restriction – this heart quilts will look great in your child's room or on your own bed.
I will say that I designed this quilt in early 2021, with the hope of releasing it before February 2022. Well, best laid plans. This is probably my new favorite pattern from all that I have designed. This is the fourth quilt pattern since I completed the Quilters Candy Pattern Writing Course. I'm hooked. I have so many cool ideas in my head.
The Darling Hearts Pattern comes together quickly. I like patterns that are easy to follow with large blocks. Each heart block measures 12 x 12 inches.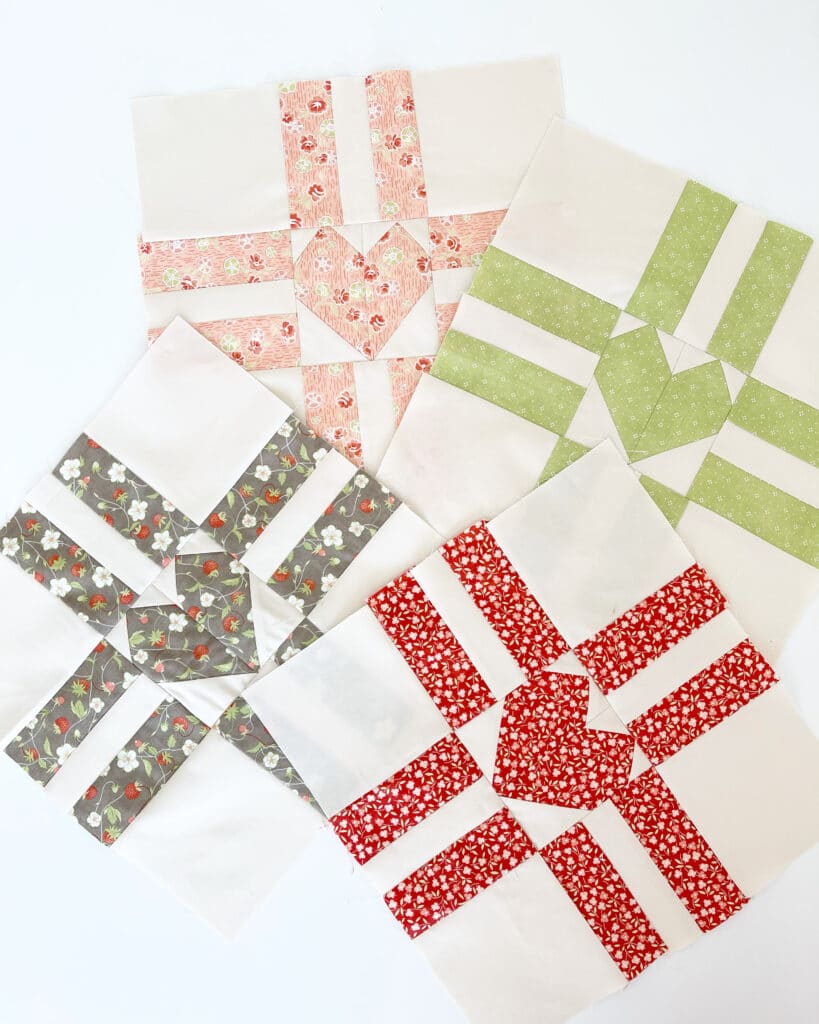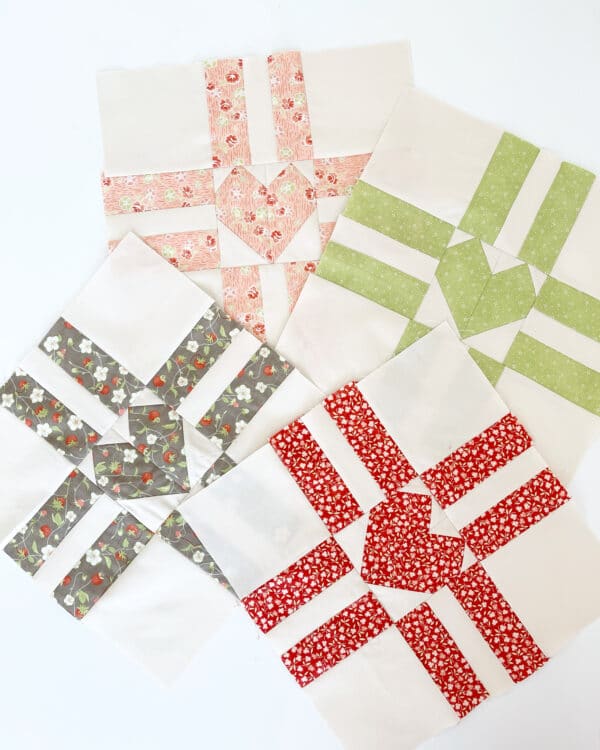 The skill level of this pattern is Confident Beginner. If you can sew a accurate quarter inch seam, you can make this quilt. You can use yardage or fat quarters, Also it looks great in solids or prints. Mix things up and try a dark background with lighter hearts. Go crazy!
I used Moda fabrics – Fig Tree & Co in Strawberries and Rhubarb. Isn't that a fun name. It really fits the fabric with the beautiful soft reds, peach and browns. This is a great scrap buster too. Cut all your pieces and chain piece away.
You can find this pattern in my Etsy Shop.
Let's take a look at what my wonderful pattern testers came up with.
This version by Vickeidy of @sewspicious looks great in red and white doesn't it! She used more than one shade of red and it looks amazing.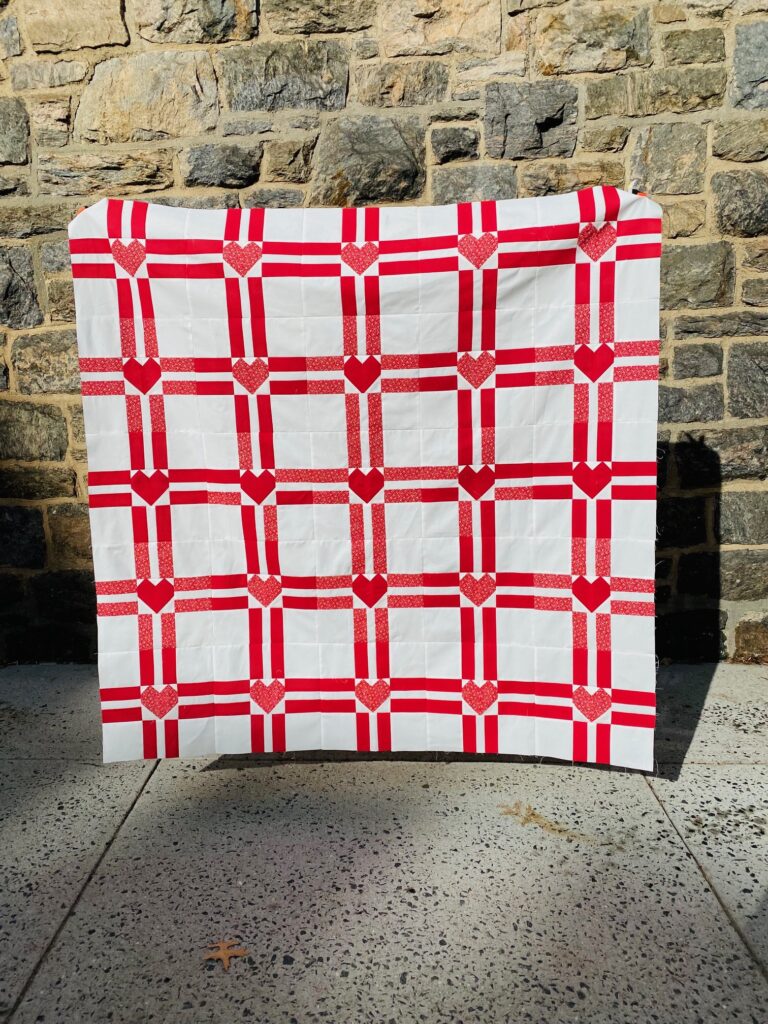 Loving the fun prints used by Vanessa of @vanessa.griffin. It looks like bubbles and it's a very happy print. So pretty!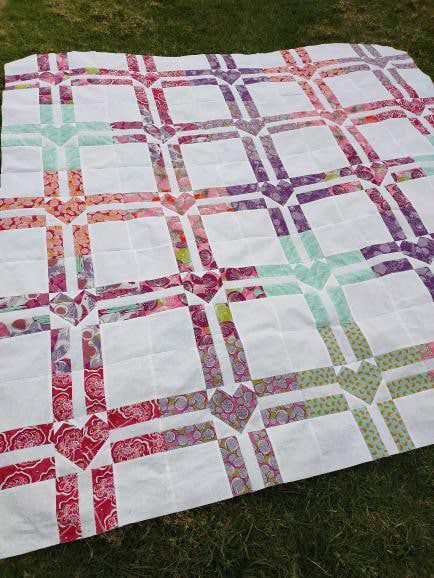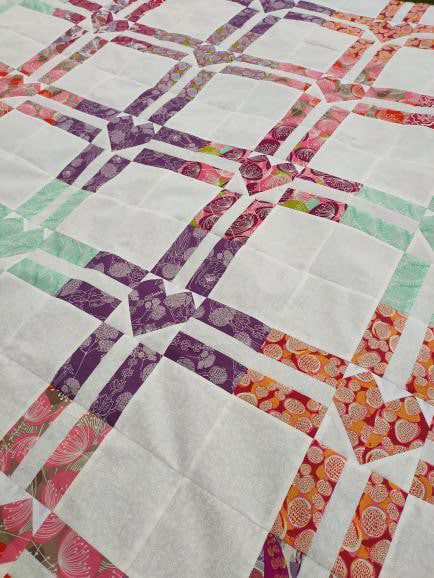 Jessica of @quiltingwithcake got her pooch in on the action with this cute red and pink crib size version. Who wouldn't want this adorable puppy as their valentine. Wonderful color selection.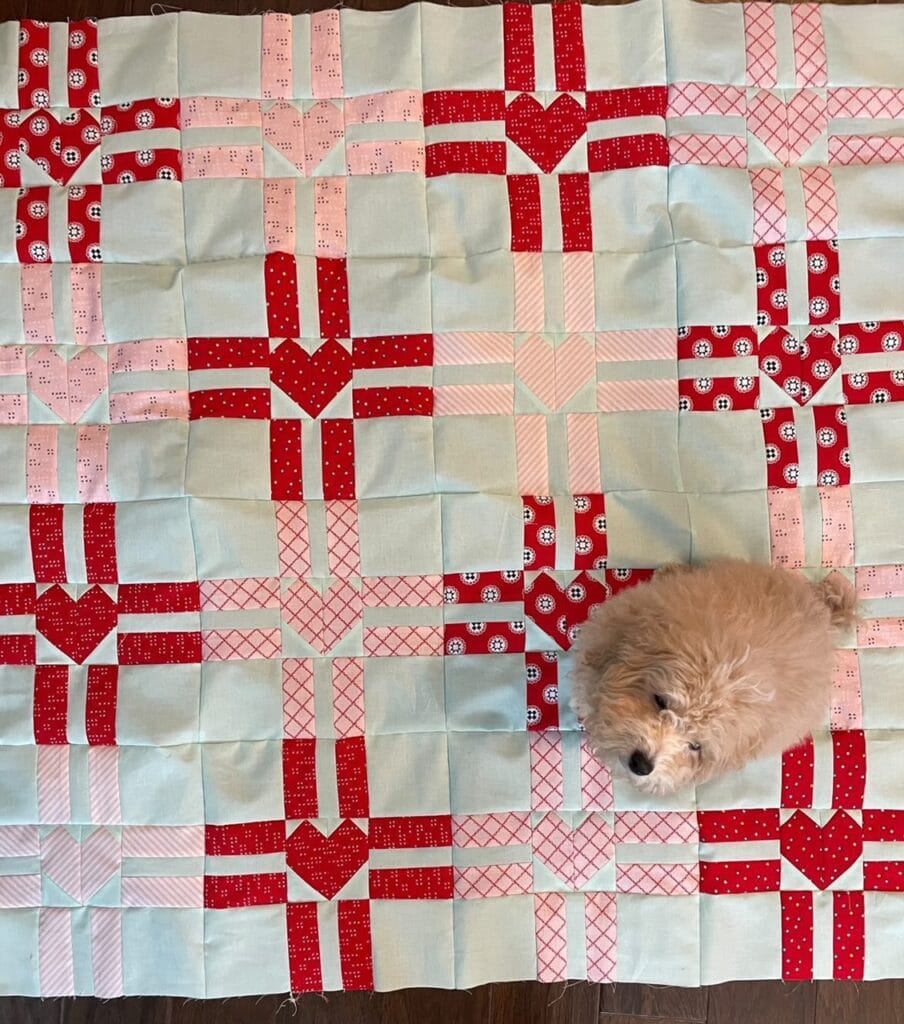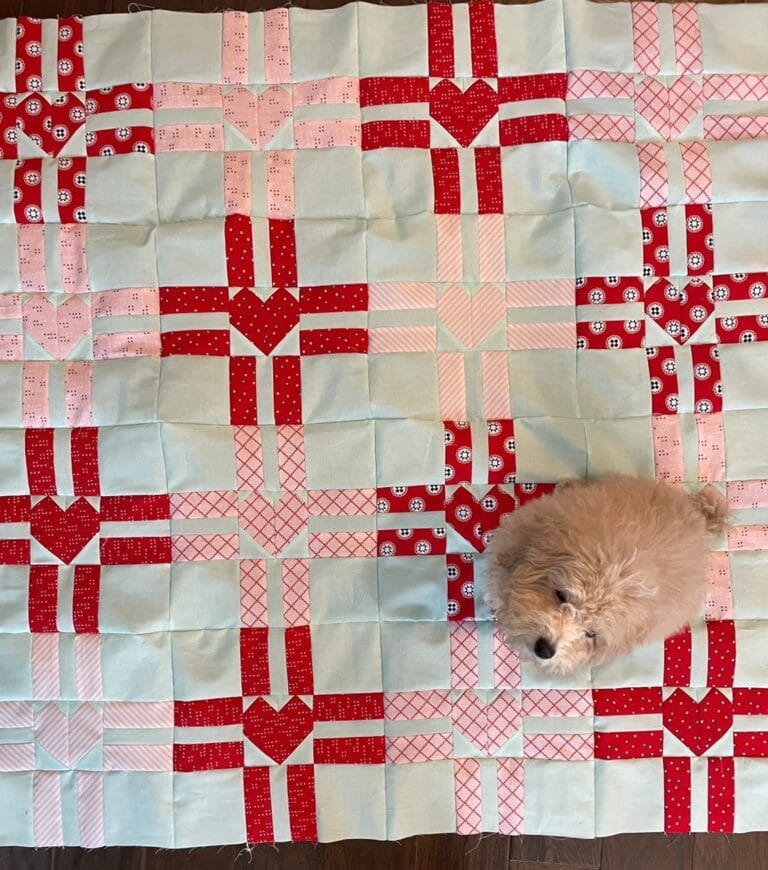 Look at how wonderful this Tula Pink fabric looks in Dana of @myquiltingphd's version. And love the background fabric. The colors are so bright and it just makes you smile.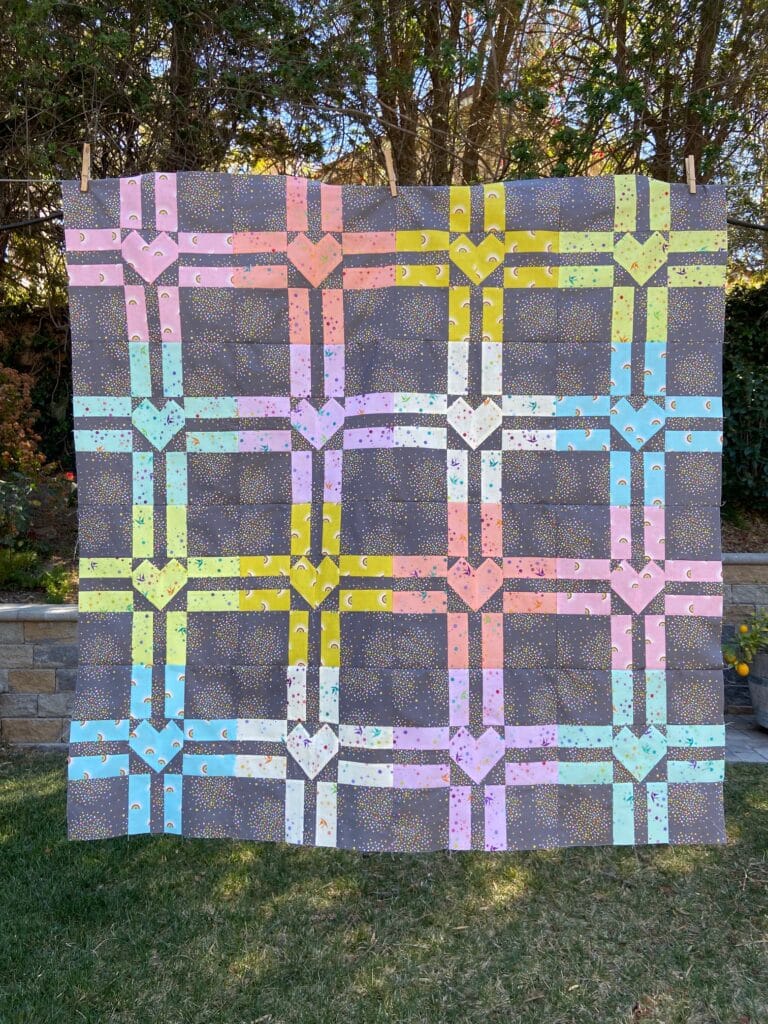 Alicia of @modernvintagehandmade made her quilt in baby pink and butterfly print fabric. Cute as a bug! As soon as I saw is fabric I wanted it. It's so dainty with the baby pink.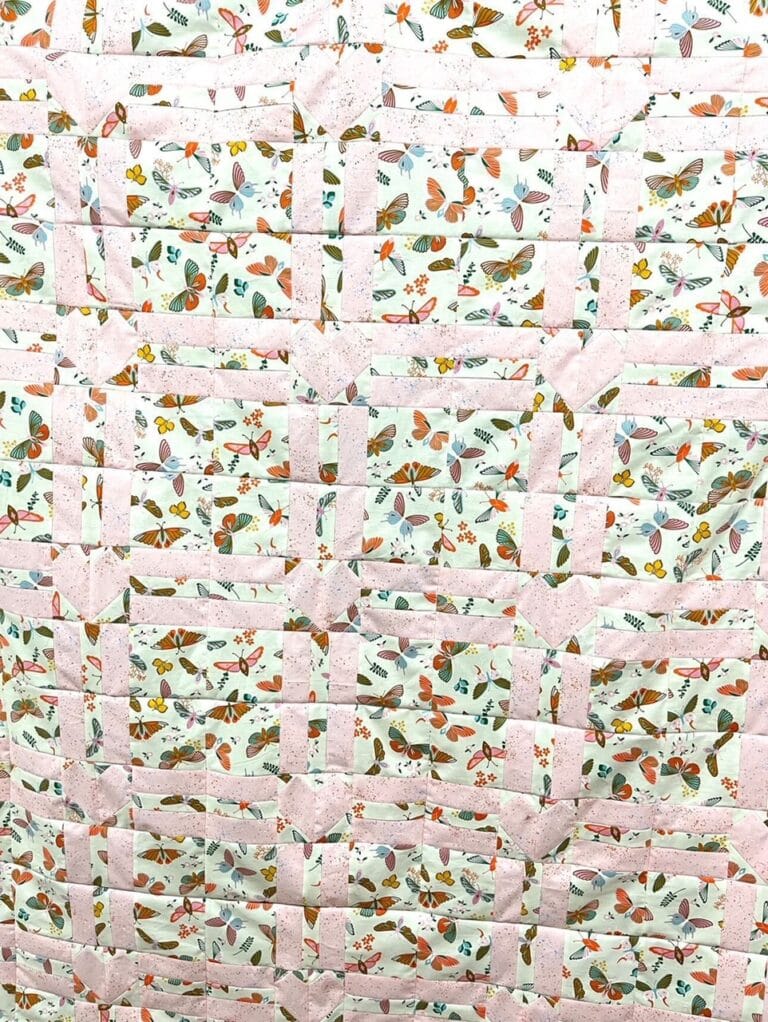 Well there you have it. Thanks to my amazing testers! Clap, Clap, Clap!! This is a fun pattern in any prints and solids. You'll be surprised at just how quick it comes together. So give it a try and be sure to tag me on social media and show me what you made. Until next time….happy quilting!
Mary