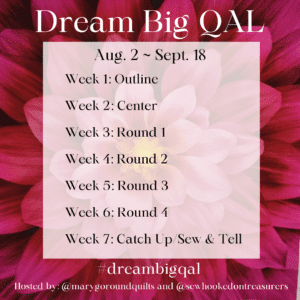 Do you want to learn how to free motion quilt the Dream Big panel by Hoffman Fabrics? Join the Free Motion Quilt Along and we'll show you how!
I've partnered with Shereece Spain of Sew Hooked on Treasures to bring you a seven week free motion quilting challenge beginning August 2 – September 18, 2021.
Registration is totally FREE! All you need to purchase is your Dream Big panel. Register HERE and let us know you're in.
We'll be learning free motion techniques on domestic and long arm machines. The same skills can be done on either type of machine, so you won't be left out regardless of what type of machine the instructor is using.
Our talented instructors on this seven week journey include: Tina Curtis, Stephanie Harris, Jen Frost, Helen Ernst and Kelly Ashton. Each week you will receive an email with a link to a tutorial for the current lesson. The instructors break it down into manageable pieces. And yes, we are including feathers! We will also be having weekly giveaways provided by our fabulous sponsors! Don't wait, Register for free today.
Make sure you are following me and Sew Hooked on Treasures and all of the instructors on Instagram to stay current on everyone's progress! I've provided links straight to everyone's page. Use the hashtag #DREAMBIGQAL


Cost
Registration is FREE!
Choose any panel you fancy! The cost will vary by retailer. Check your local quilt shop or online. Doing a google search for "Dream Big Panel" will provide lots of hits, especially for Etsy.
Machines and Practice
Designs can be applied using a domestic or a long arm machine. Whatever machine you normally use, that's the perfect machine for this QAL. Just make sure you have the proper foot.
You're welcome and encouraged to practice on scrap sandwiches, paper, or any other method you use to learn new designs.
The time commitment is totally at the discretion of each quilter.
Upcoming Prep Videos
We'll be sharing videos in the upcoming weeks to help you get ready. We'll be covering topics such as:
Panel selection
Thread
Batting
Display
Basting
Weekly Video Tutorials
Registered participants will receive an email each week with a link to the video.
You'll be able to view them no matter where you're located as long as you have the link.
If you can't start the first week, or miss any weeks, previous weeks links will be included in the email as well.
Prize Drawings
Winner(s) will be randomly chosen each Friday during the QAL from ONLY registered participants.
Winner(s) will be notified by email and/or Instagram. They will have 24 hours to reply to claim their prize.
International participants are eligible.
Mary Davis
Owner, Mary Go Round Quilts