Pillows are such a great way to add a touch of color to your home décor.  If you are looking to spruce up your living room sofa, add some quilted pillows.  Choose any color of prints or solids.   This quilted pillow tutorial is very quick to make.  There are no zippers, and no fancy piecing.  We are using strips.  You probably have fabric in your stash you can use right now.  This tutorial shows you how to make a pocket pillow.  You do not need to do any fancy free motion quilting on this pillow — unless you want to.  Let's get started.
What you'll need:
Fabric A – Cut (2) 6 ½" x 18 ½" strips
Fabric B – Cut (1) 6 ½" x 18 ½" strips
Cut (2) 18 ½" x 24″  pieces of fabric for pillow back
Cut (1) 20″ x 20″ piece of fabric to be used as backing for quilt sandwich (will not be visible on finished pillow)
Batting:  Cut (1) 20″ x 20″ square
18″ x 18″ pillow form
Basting spray (optional)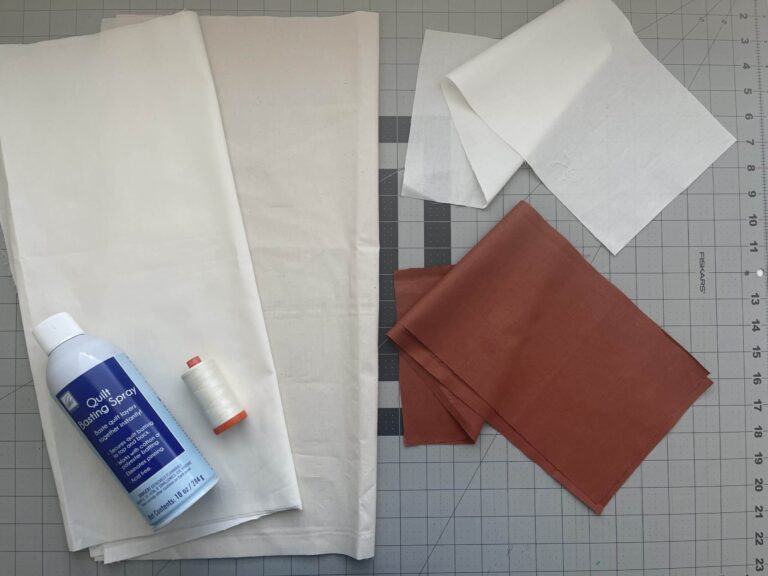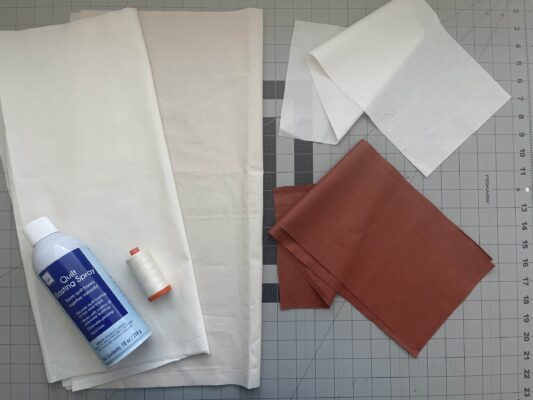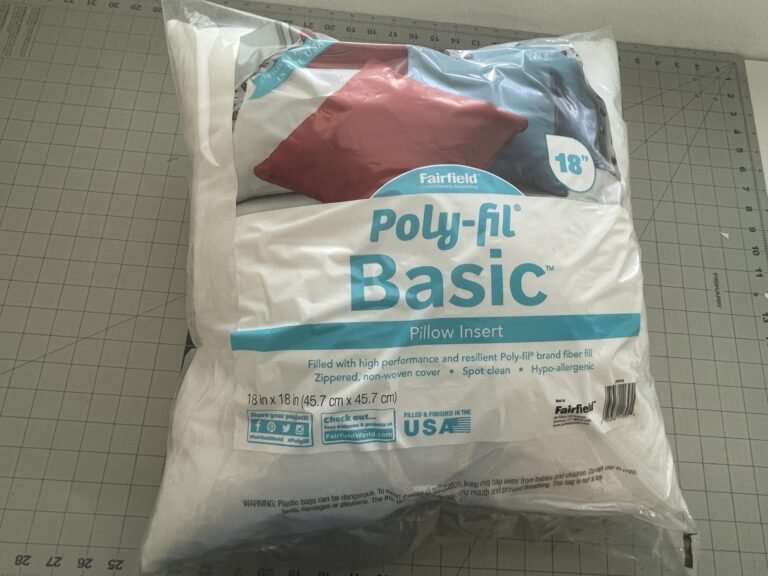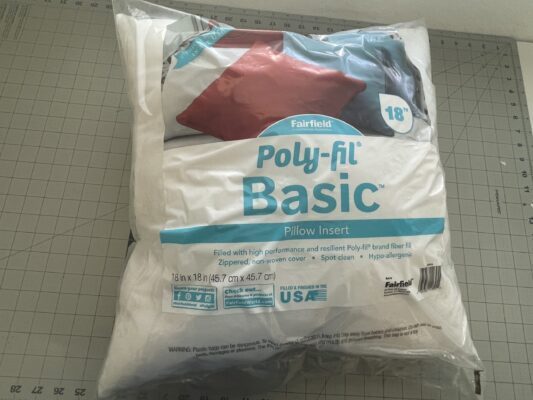 First, lay out your fabric A and B strips in this order:  The Fabric B strip will be sewn in the middle of the two Fabric A strips.
Stitch together and press seams toward the darker fabric.
Lay your 20″x20″ backing fabric on your work surface, wrong side facing up. Place your batting on top of that.  Lastly, your pillow top is placed right side up.  These three layers are know as the quilt sandwich.
Baste your layers together.  I am using basting spray.  You can pin baste if you prefer.
Before you start quilting, I recommend you switch out your sewing machine foot for a walking foot.  The walking foot helps when working with thick layers of fabric such as a quilt.  In conjunction with the feed dogs, the walking foot moves the quilt sandwich under the presser foot easily and alleviates the need for tugging or pulling on your quilt.  This is a what the walking foot looks like for my Baby Lock Lyric
sewing machine.  However, most all domestic machines have a similar looking foot.
Now you are ready to quilt your piece.  No need for anything fancy.  You can simply quilt straight lines.  For my quilt I went with straight lines intersecting to make a cross hatch design.  I used the edge of my walking foot as a guide to keep my lines spaced evenly.  But as I like to say, there are not rules here.  You can quilt any design you like on your pillow top.NOTE:  I recommend using a longer stitch length. I like the way the basting stitches look, instead of having really tight stitches.  I moved my sewing machine stitch length to 5.0.

Once your top is done, cut off the excess batting that hangs over your pillow top.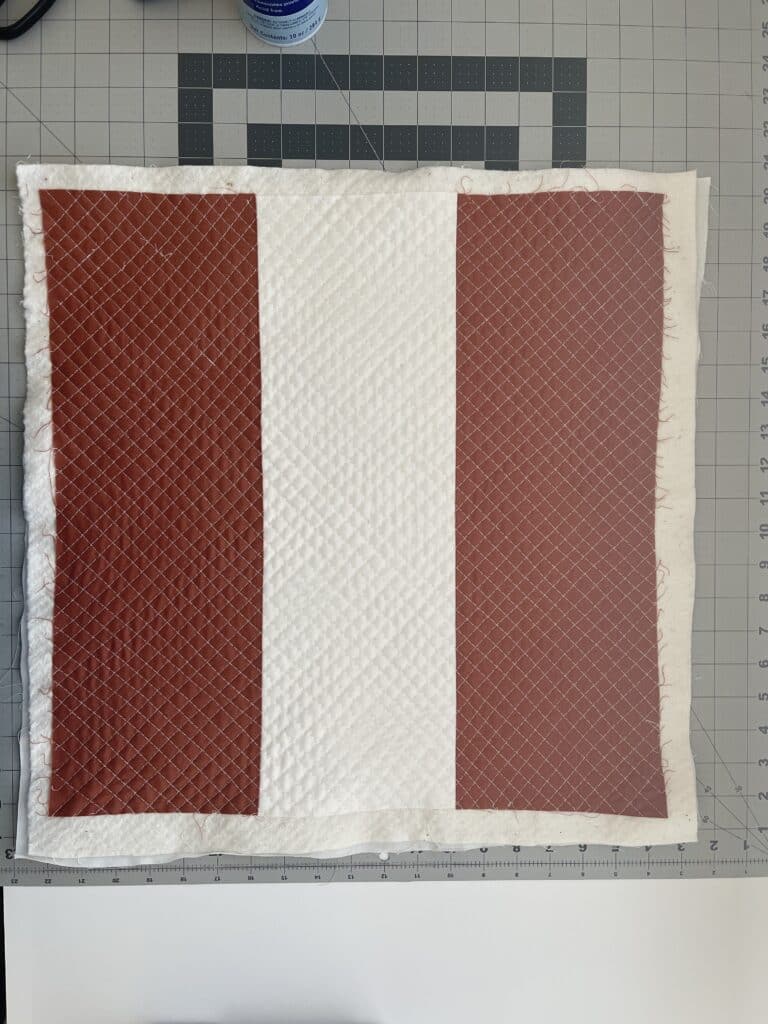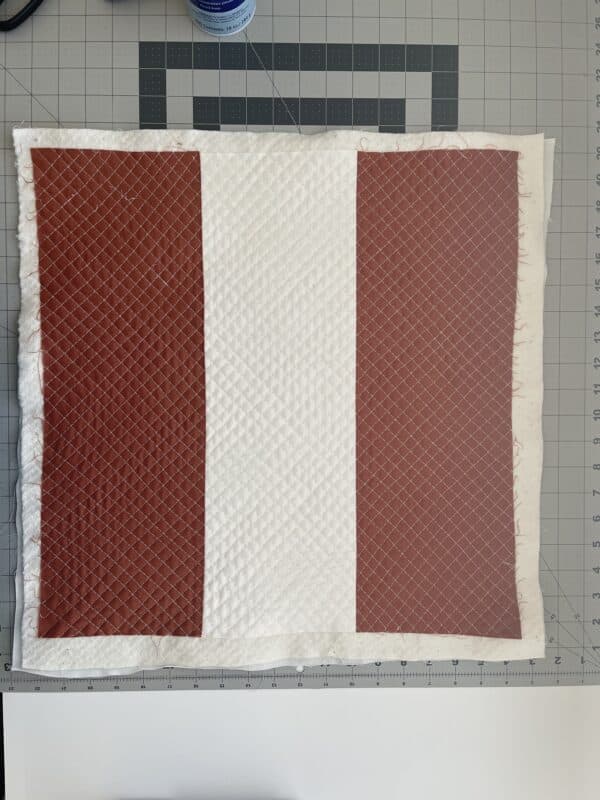 8. Now let's work on the pocket opening for the back of the pillow.  Lay your quilted block face up on your workspace.  Take one 18 ½ x 24″ fabric piece and fold it in half, right side facing out.  Place  onto the left side of your quilt, matching raw of edges of the quilt.  The folded side will be facing the middle of the quilt.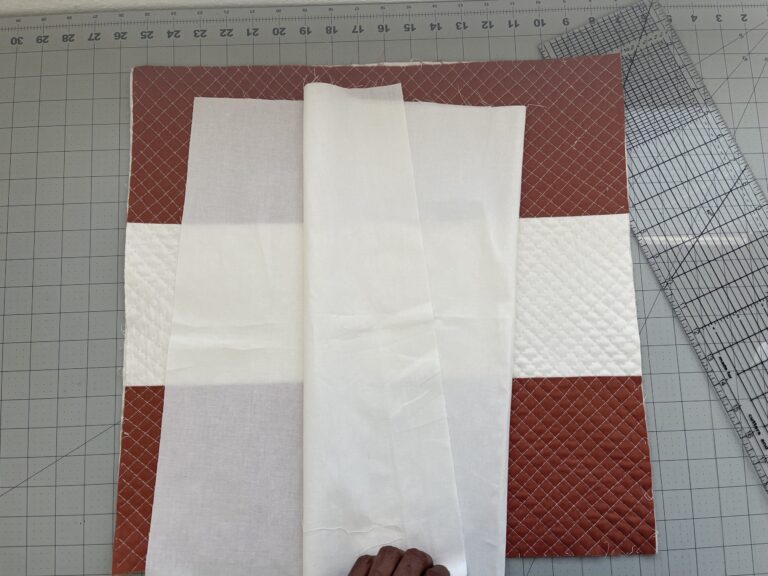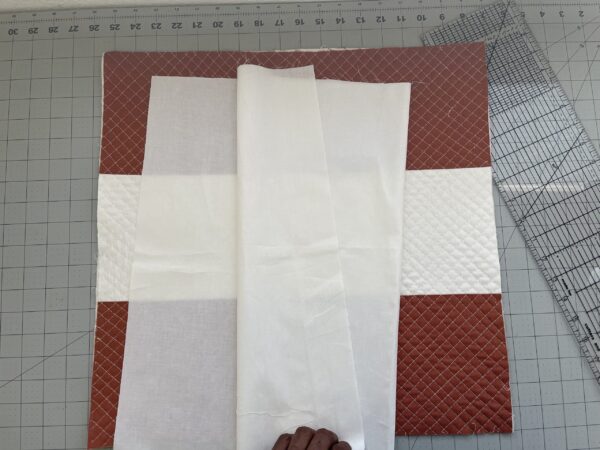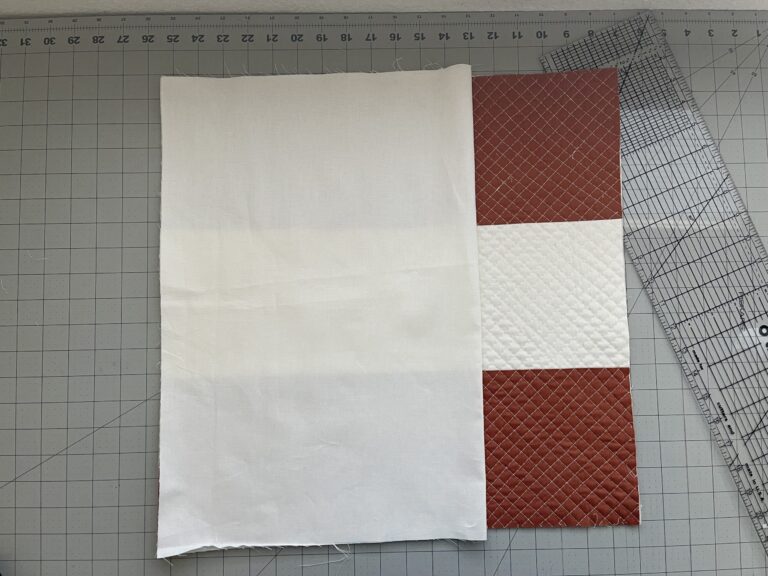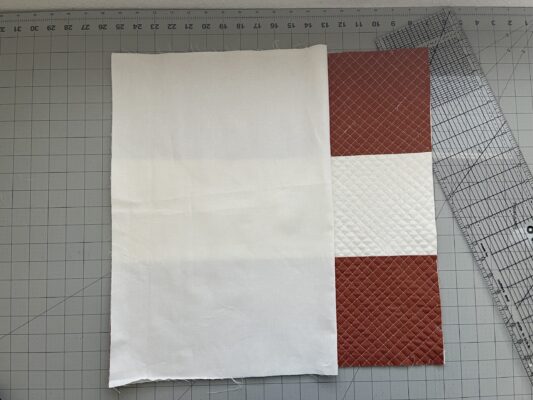 9.  Repeat by placing the second 18 ½ x 24″ piece on the right side.  Your pieces will overlap.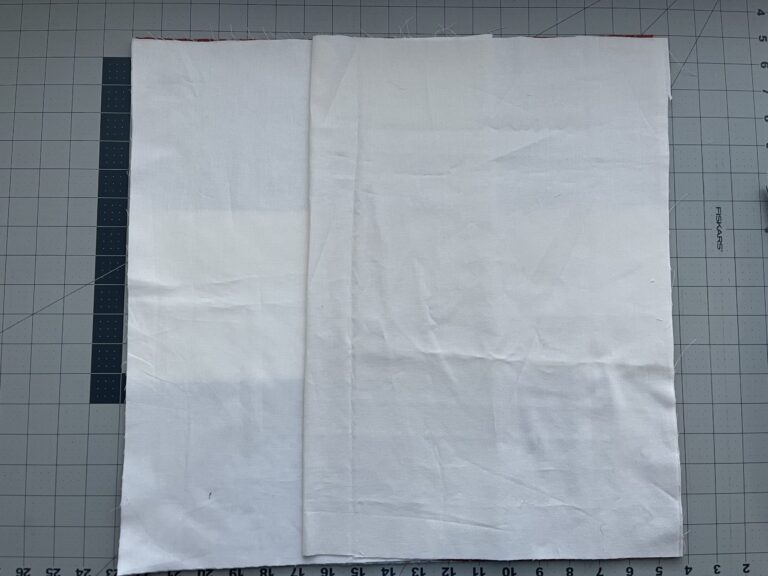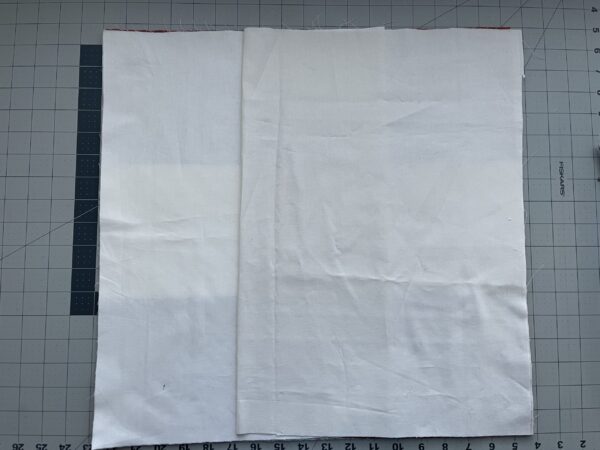 10.  Pin in place.  Stitch 1/4″ around the entire perimeter of the square.  (Sorry I forgot to take a photo of the stitching around the pillow.)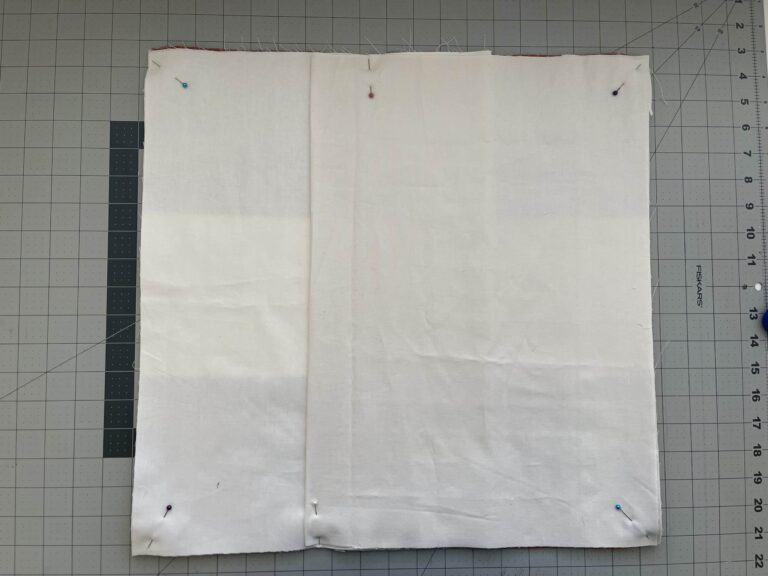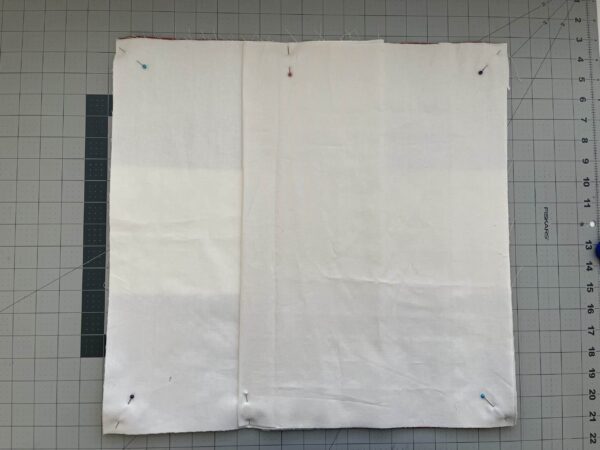 11.   Clip the corners.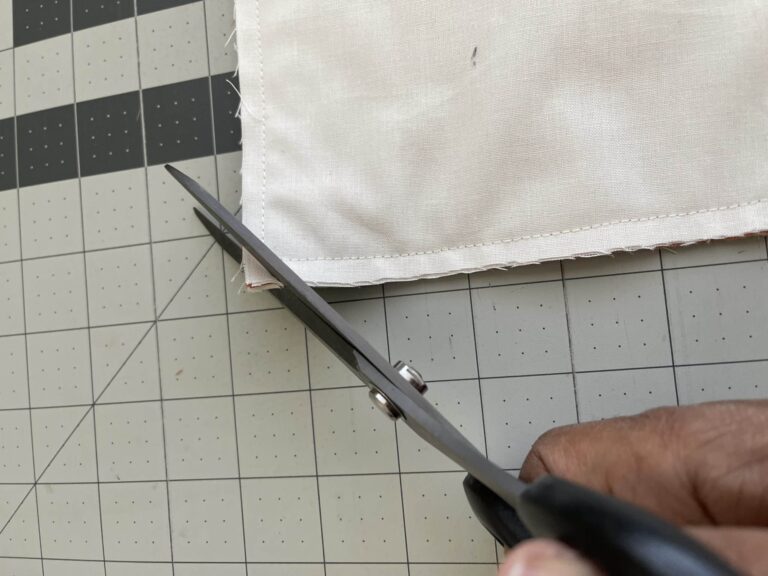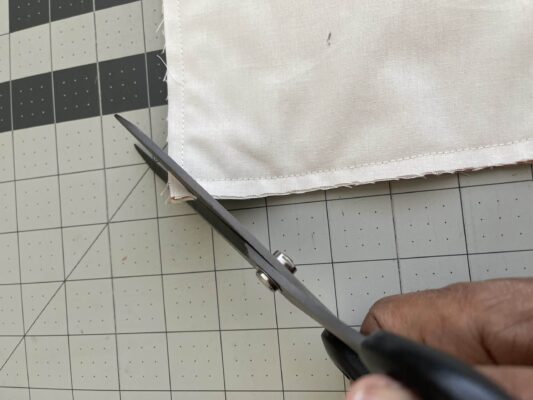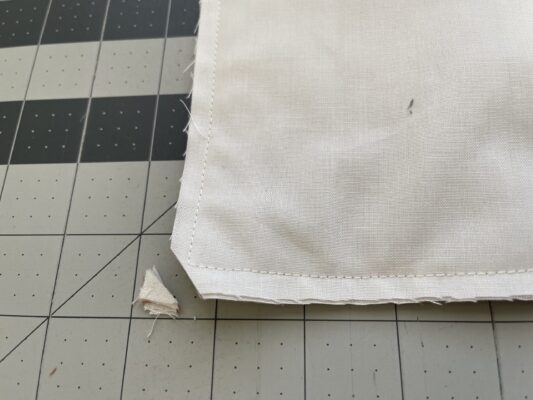 12.  Stick your hand inside the opening, and pull your pillow right side out.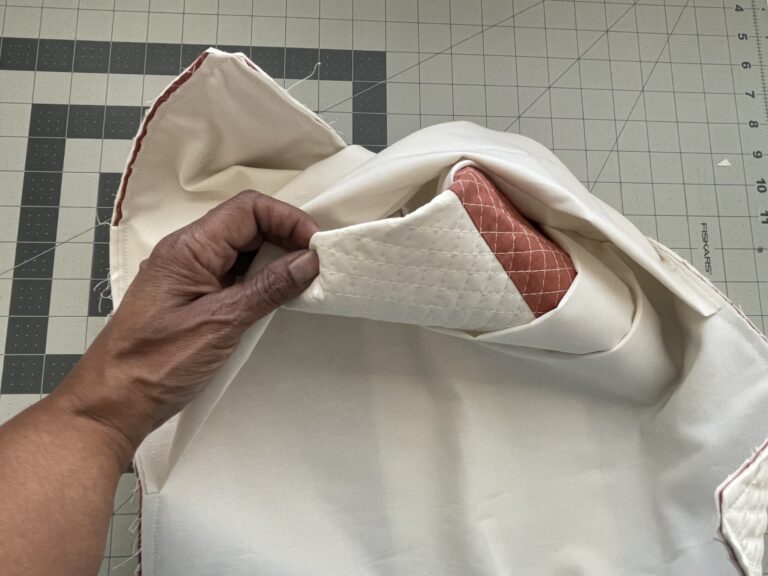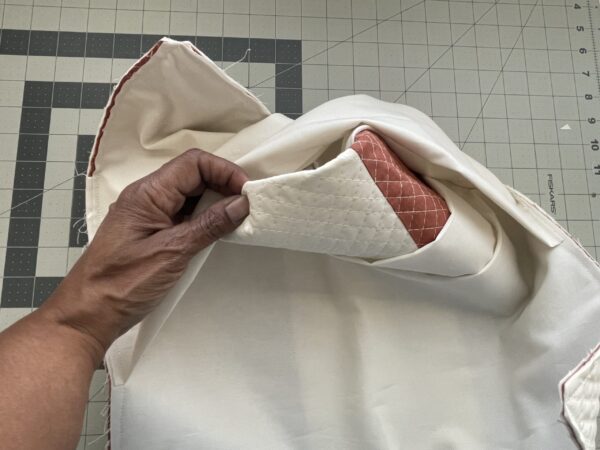 13.  Here is a picture of the finished front and back after you pull it right side out.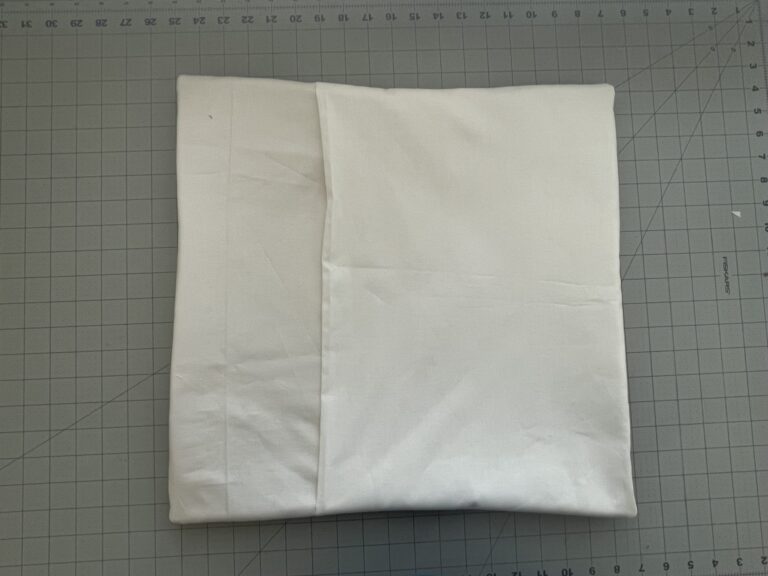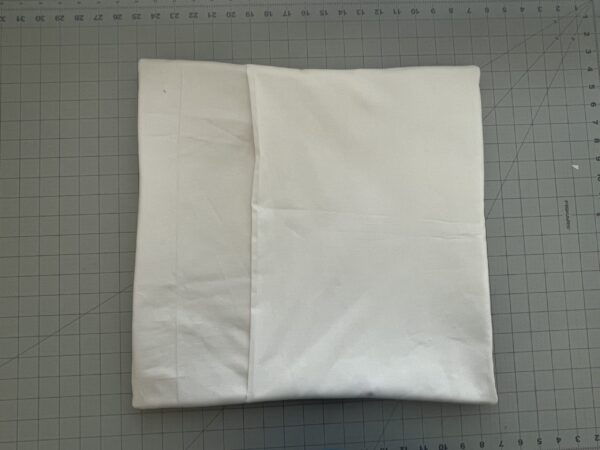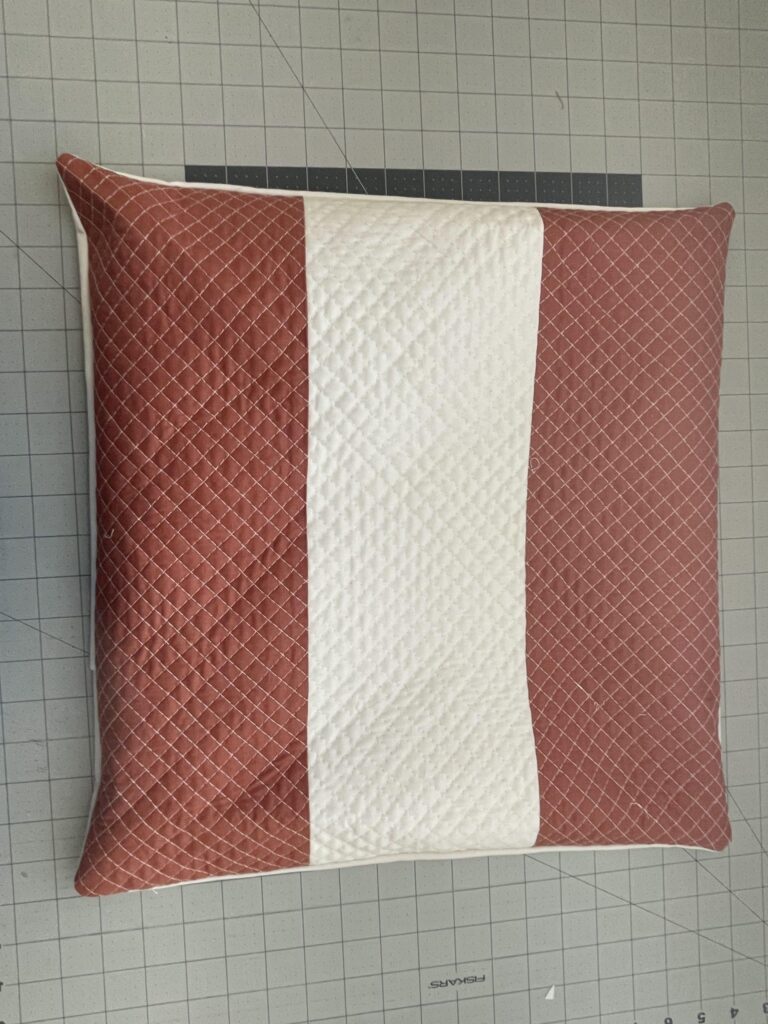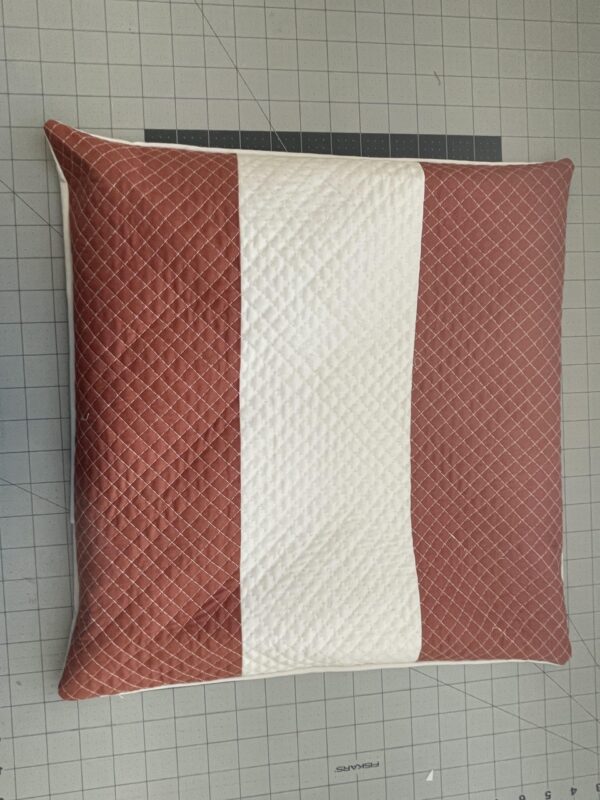 Now it's time to stuff your 18″ x 18″ pillow form inside the opening and enjoy your new pillow!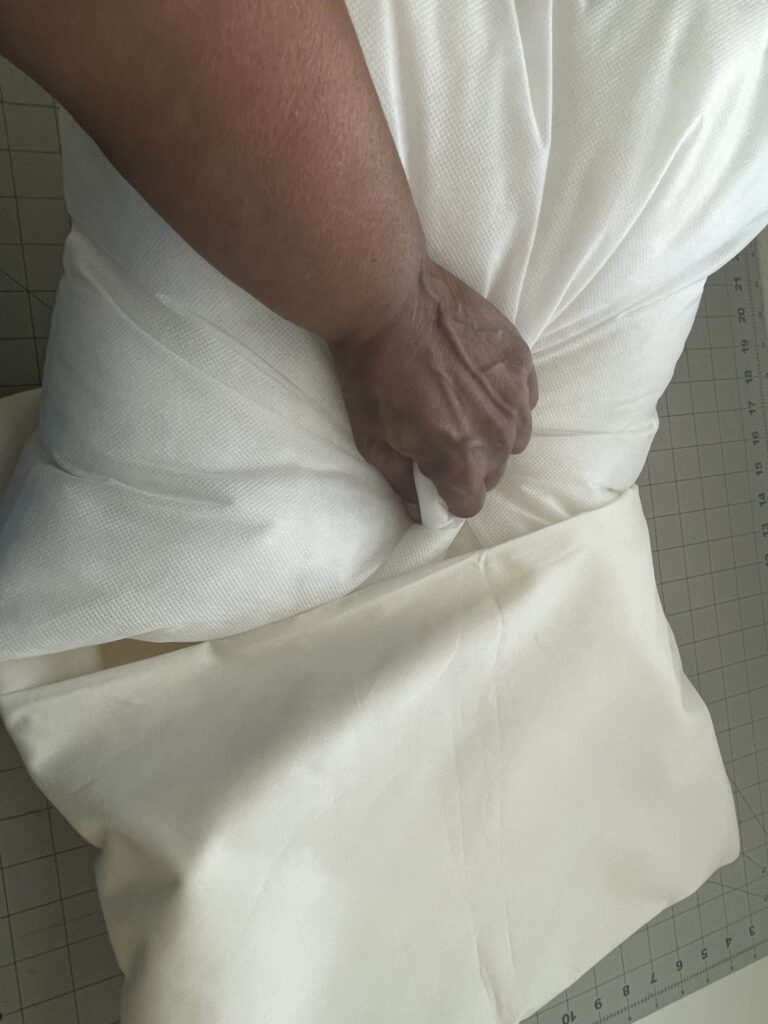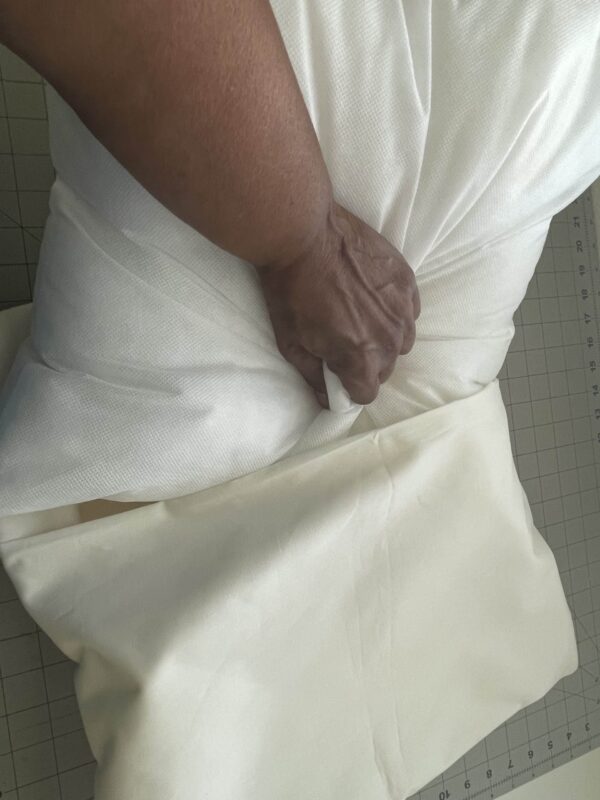 There you go!  You did it!  Remember, you can use any fabrics for your pillow in any combination of colors.  Here's an example of one I made using prints.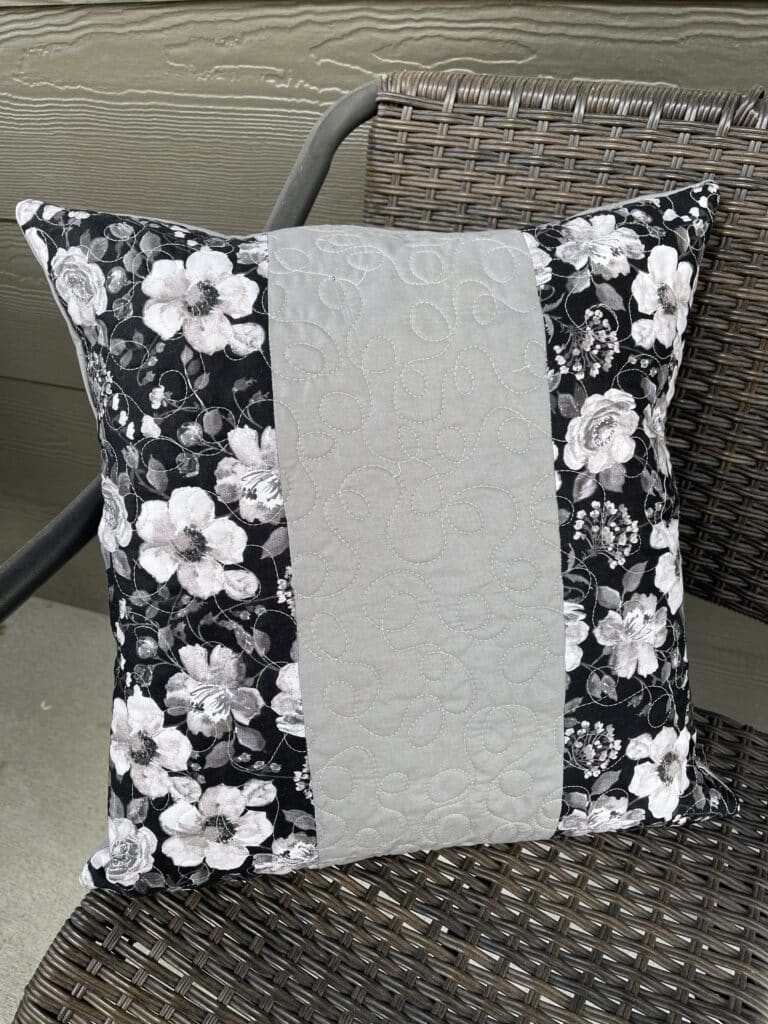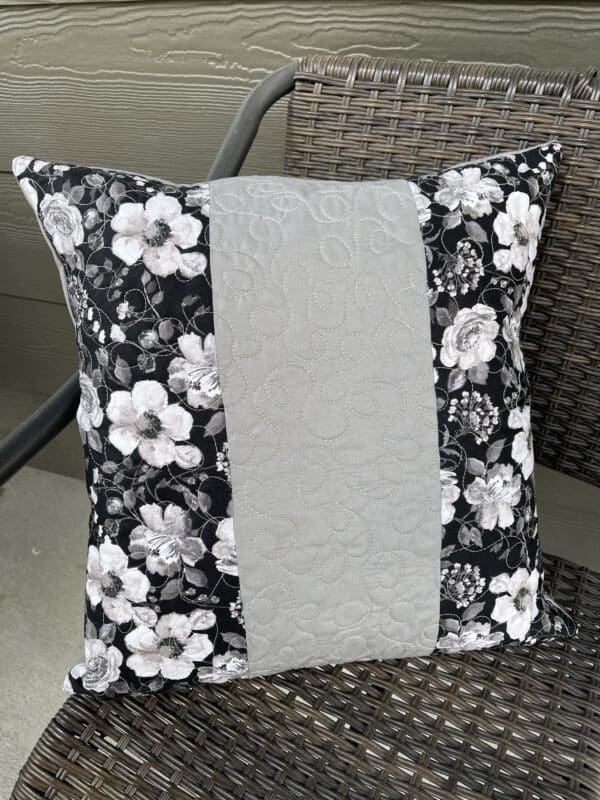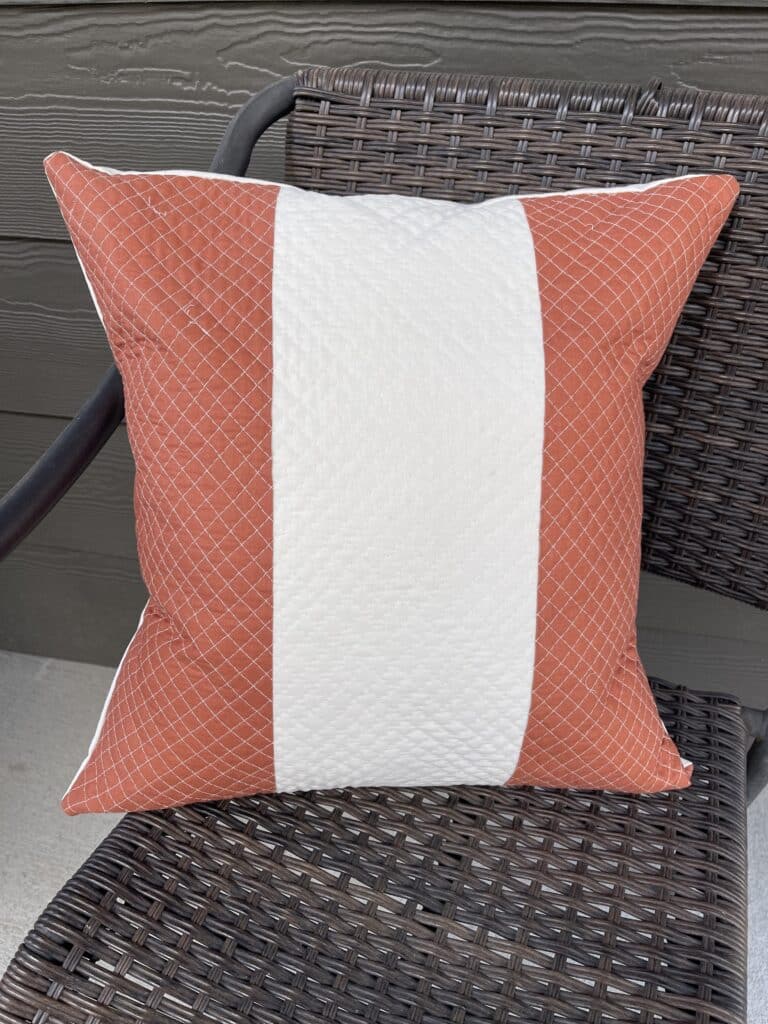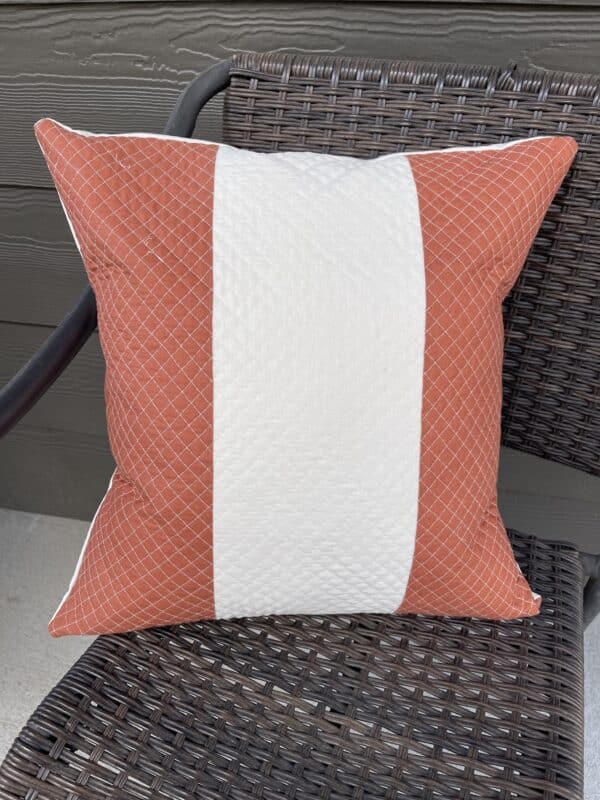 Happy quilting!
Mary Davis