I don't know about you, but I'm super excited to bring you my latest pattern. The Hum A Few Bars Quilt. Named so because the stripes reminded me of piano keys…AND it's just plain catchy!
This design came about because I wanted to make a log cabin quilt, but I didn't want to use the traditional long solid fabric strips. I wanted to give it a twist. I thought that stripes, rather than solid strips, would be perfect. And I couldn't be more pleased with the result.
The pattern includes step-by-step instructions to make three different color variations. There is a 3 color version, 4 color version, and 6 color version. It is all strip piecing – meaning you sew long strips together and cut them into different size blocks. The finished quilt is 72 x 72 inches. However, you can make yours smaller or larger depending on what you want to achieve.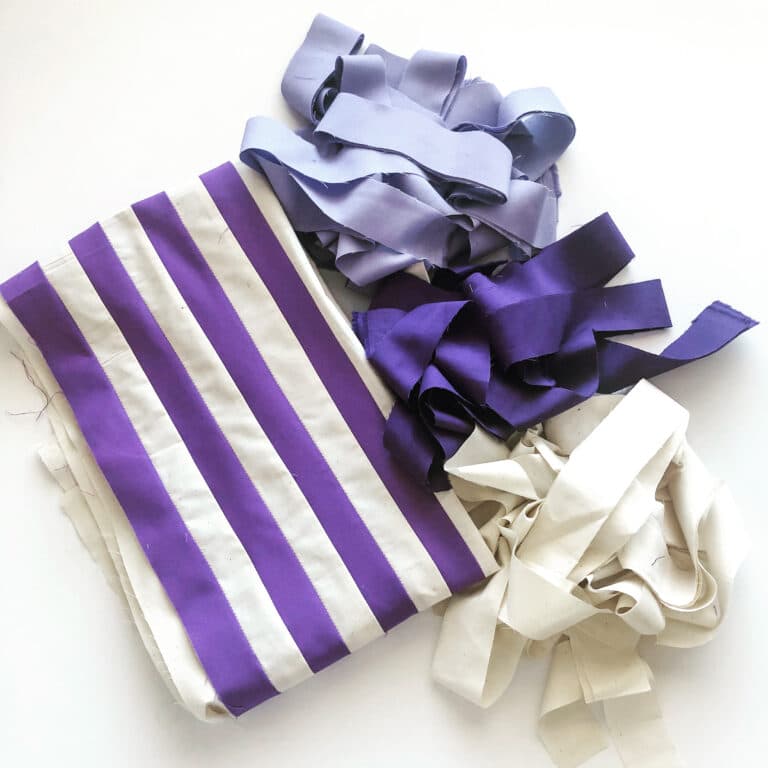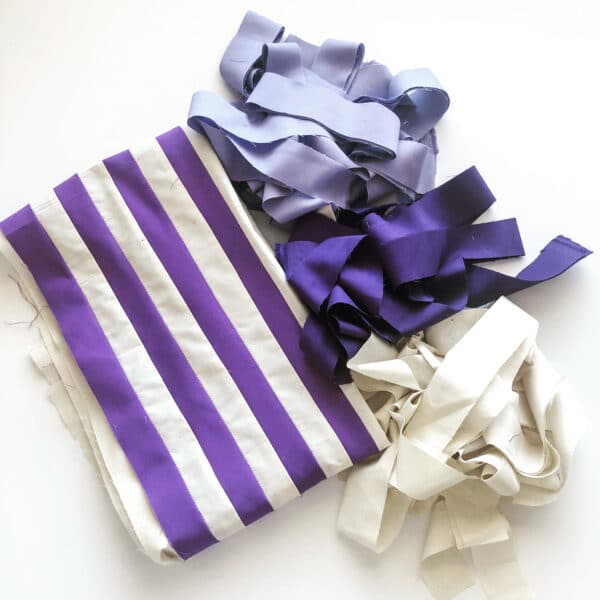 This purple version uses 3 different shades of purple. I started with the darkest shade in the center, and gradually lightened the hues as I worked my way out. Purple is not my favorite color, but I wanted to step out of my comfort zone of the blues. I have to say purple is definitely growing on me now. And I will definitely use it again.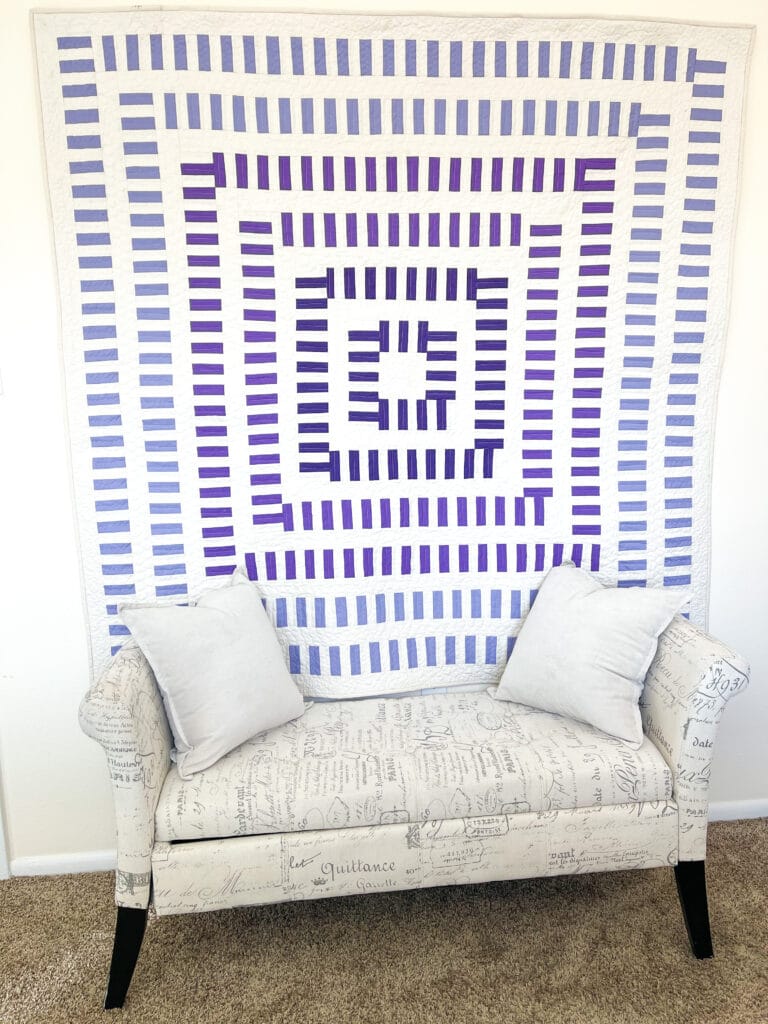 For the 4 color version, I knew I wanted to go bold and bright. I'm a big fan of bright, sunny colors. They are just so fun and make you feel happy and cheerful. I mean, even this stack of blocks is fun to look at, isn't it?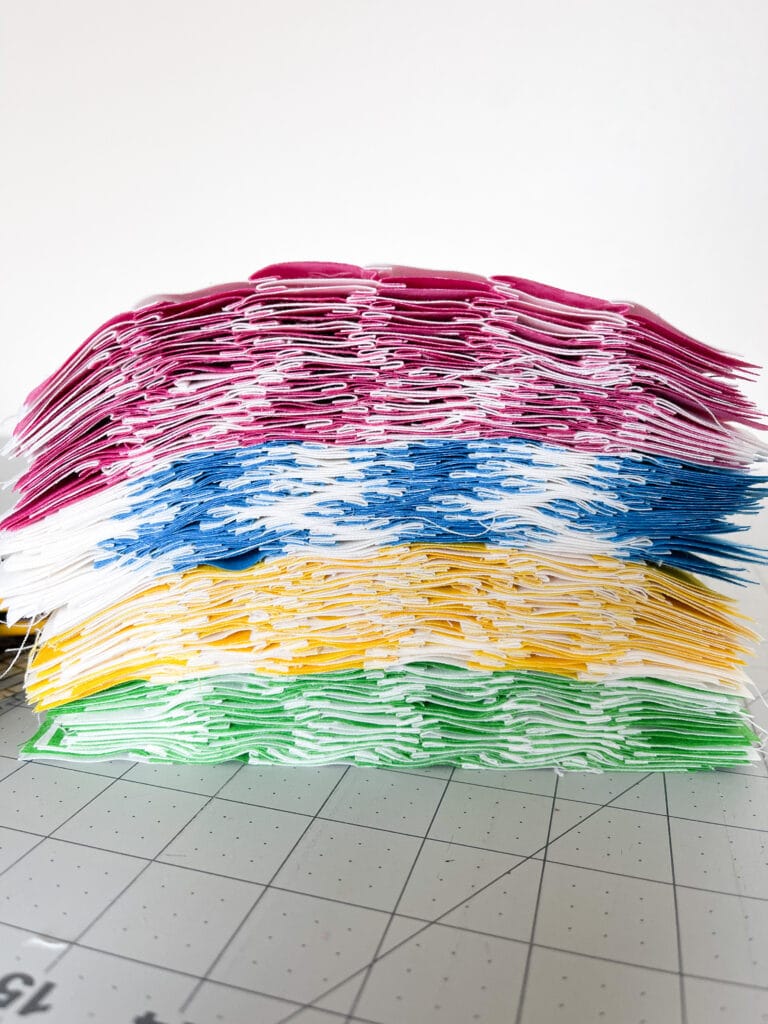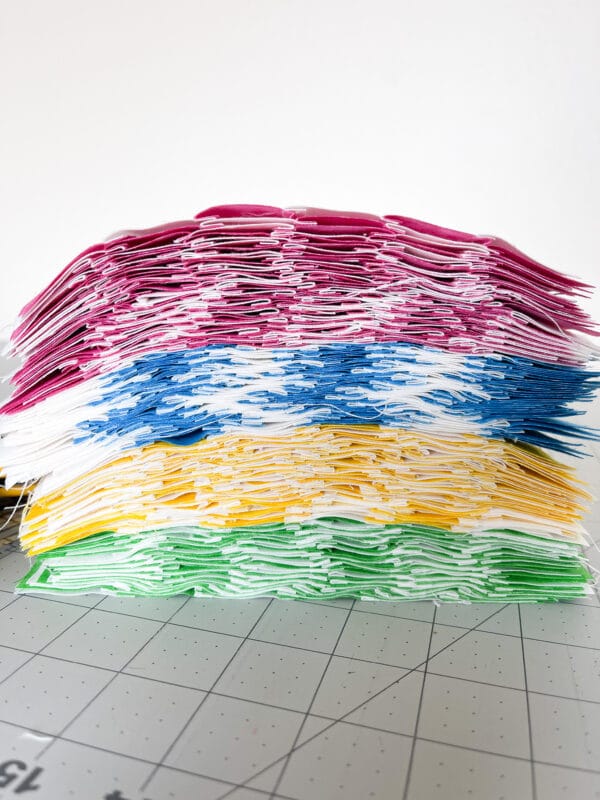 I love the finished product. I opted for a scrappy binding. My first thought was a white binding because I didn't want to distract from the quilt, but I'm so happy I chose the scrappy. It really works and gives the quilt a sense of whimsy.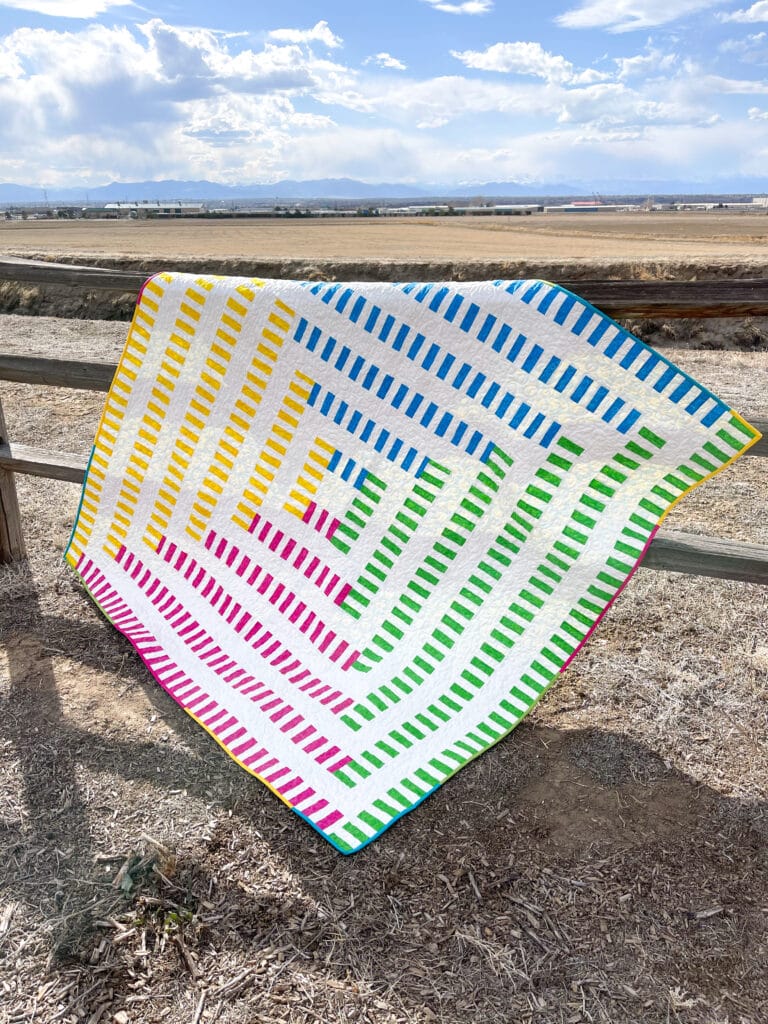 I had the pleasure of working with some very talented testers for this quilt. Let's take a look at what they made.
First up is @sewhookedontreasures. She made her quilt using OSU fabric as a gift for her dad. Several testers opted for a dark background and it looks amazing.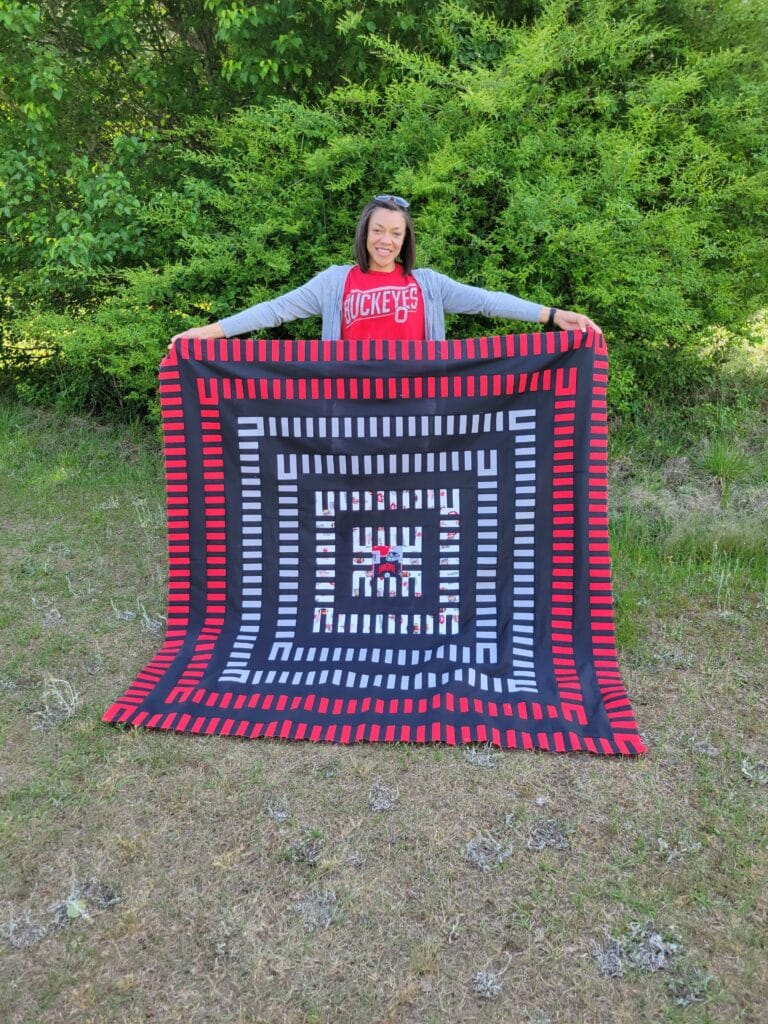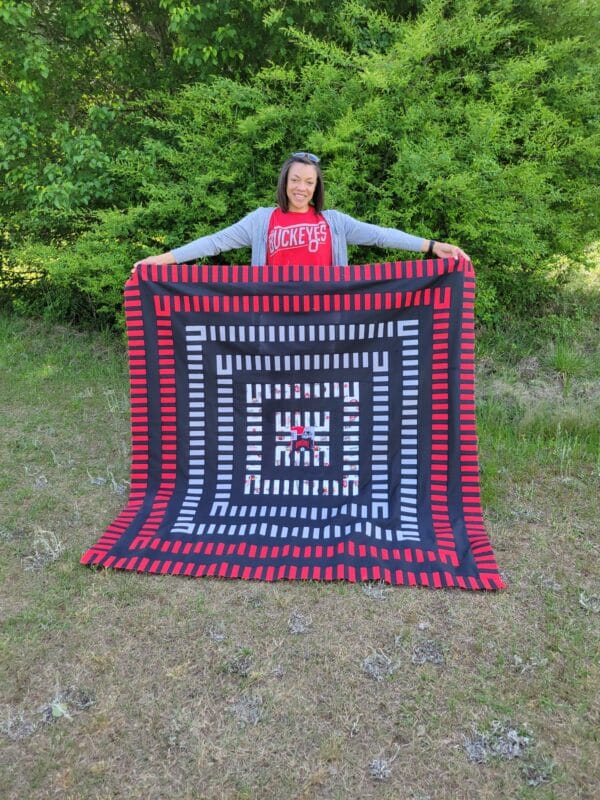 @quiltingwithcake made the 4 color version with a print background in a space theme. Second picture is a close up of the fabric she used. Great idea for a kid's quilt.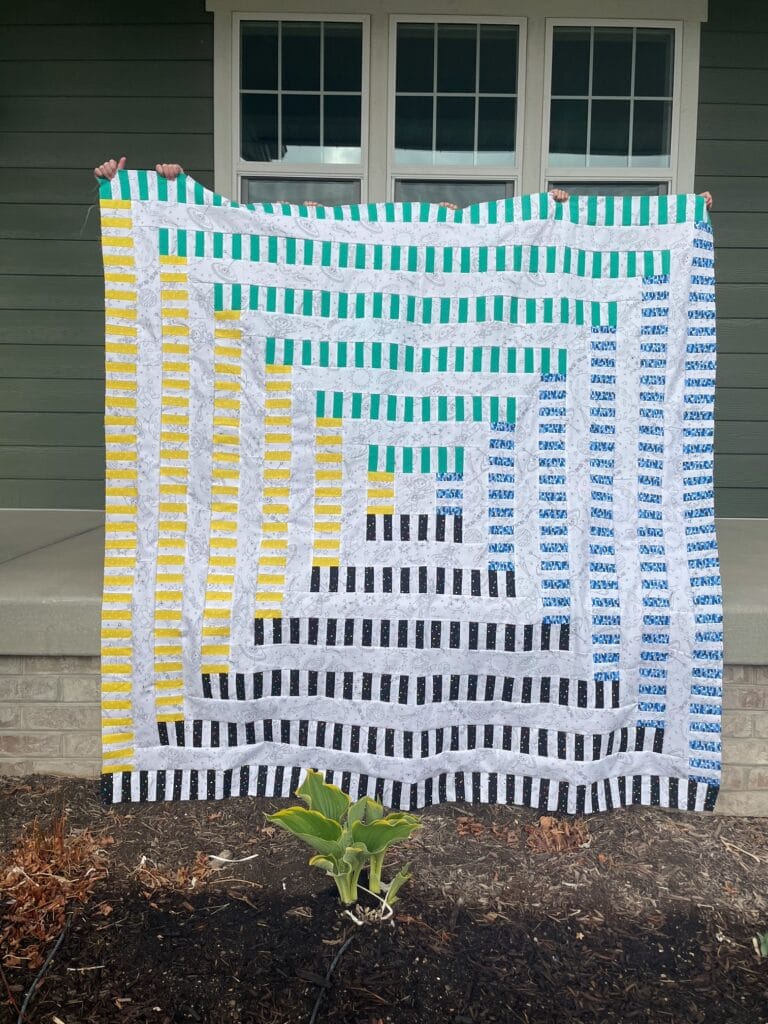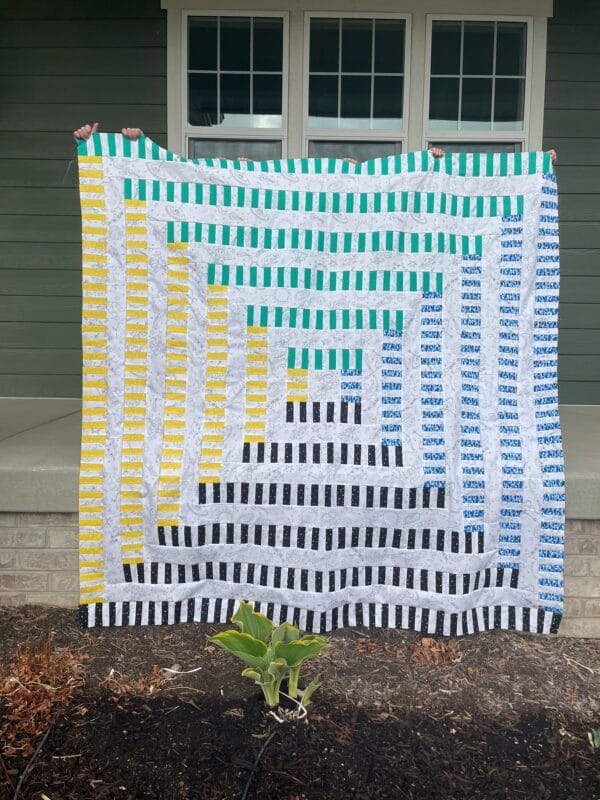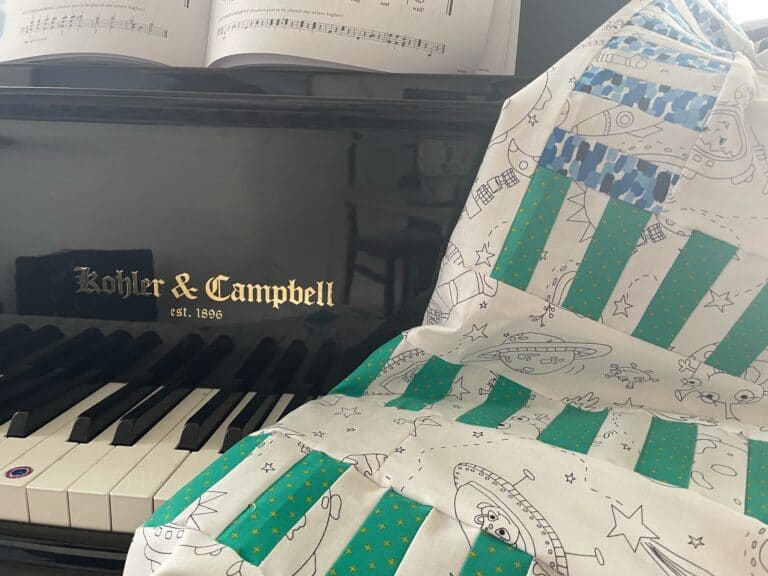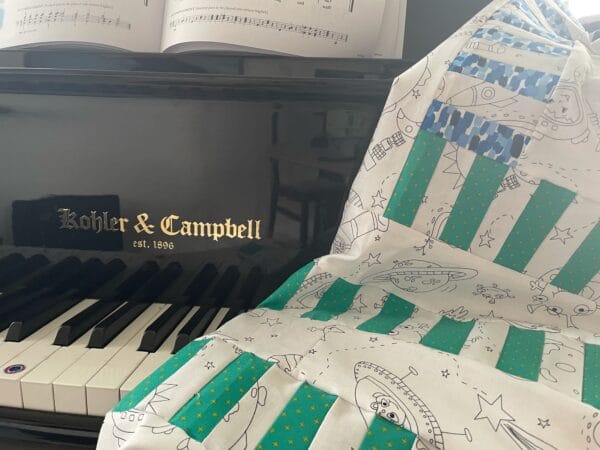 @arkie_bittle also made the 4 color version. I like how she chose light colors on two of the sides and dark colors on the opposite sides.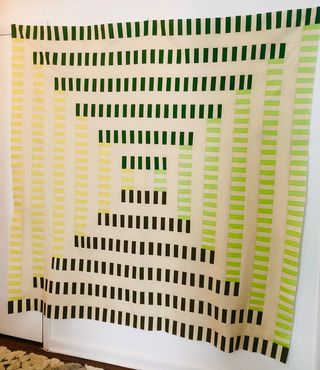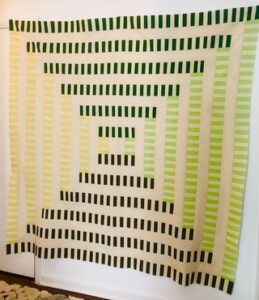 @heather.quilts chose a dark gray as her background and you'll notice she did scrappy blocks, which I had not thought of. This pattern is so versatile.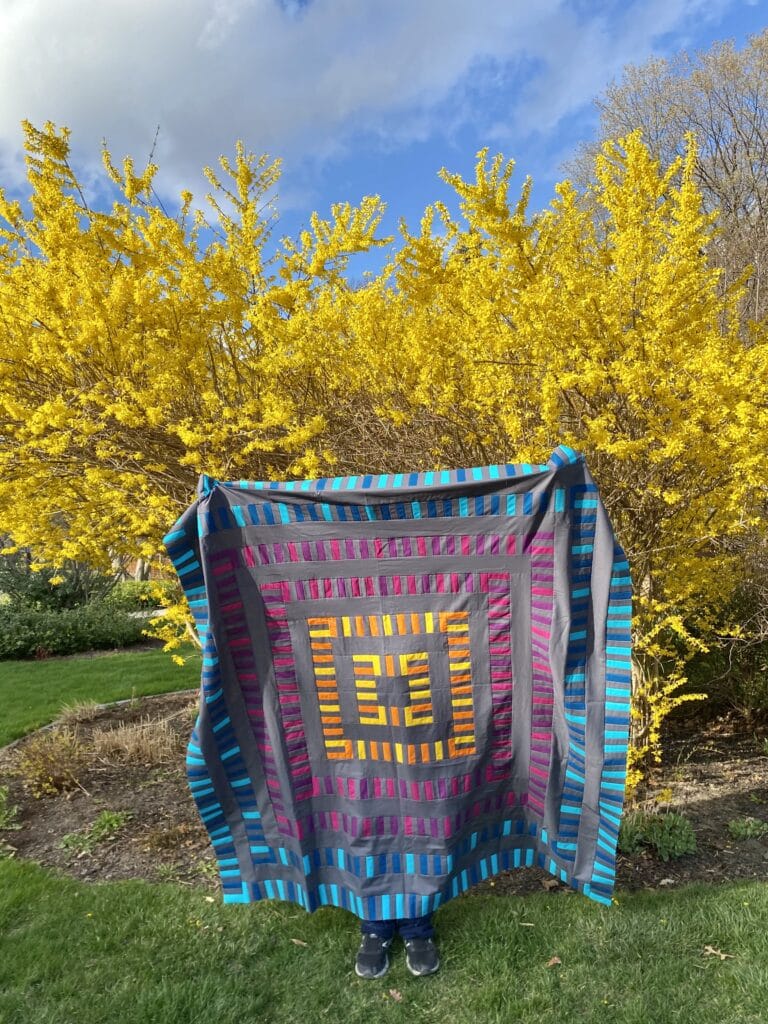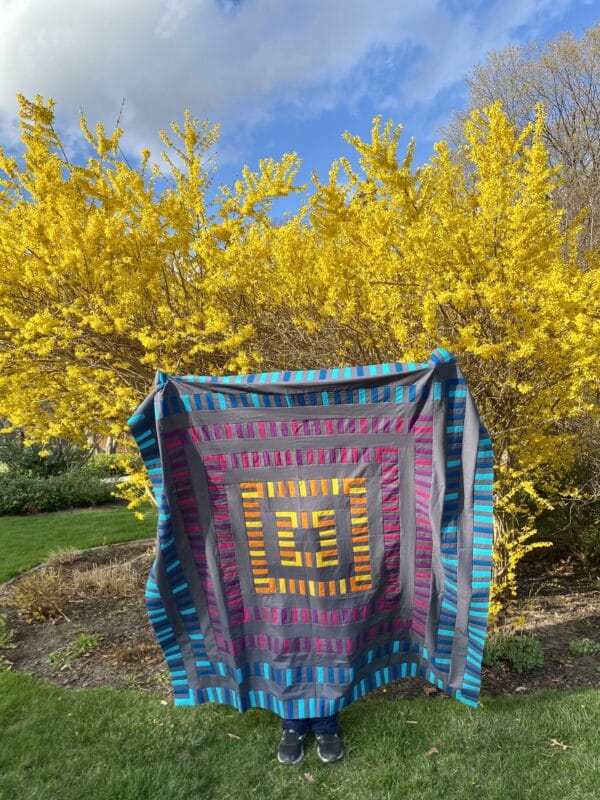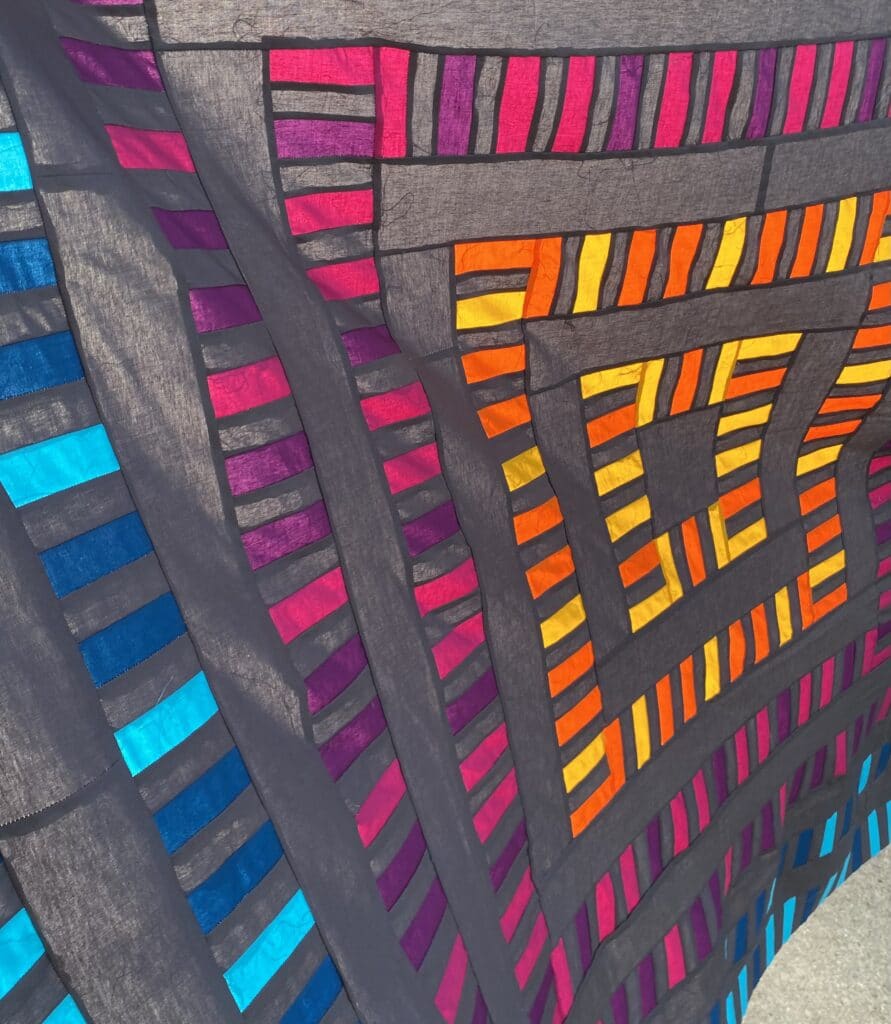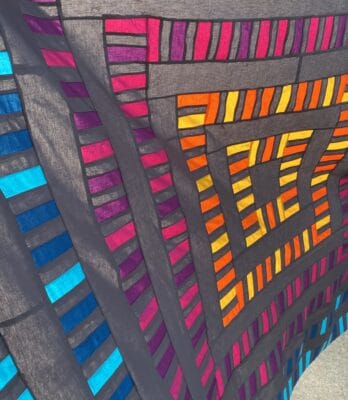 Check out @rachlelamb's quilt. You will see she used two different background colors. She used a dark for the first couple rounds, and a teal color for the remainder. She said this was a mistake because she didn't have enough background fabric, but I think it really adds to the design, and I like it a lot!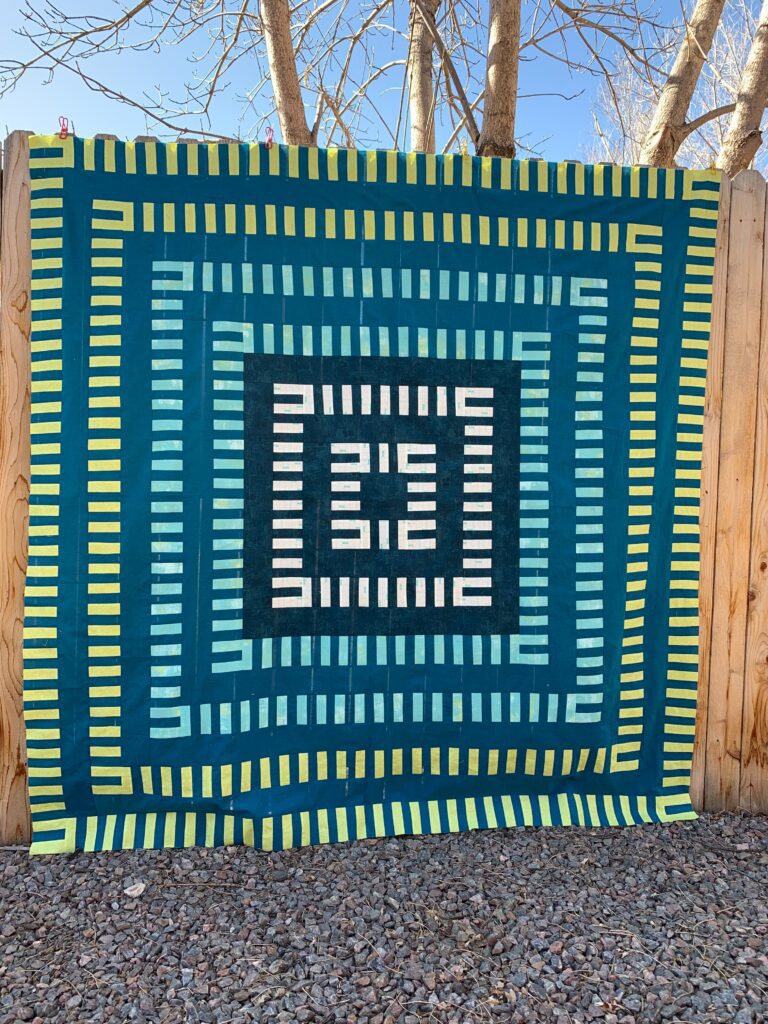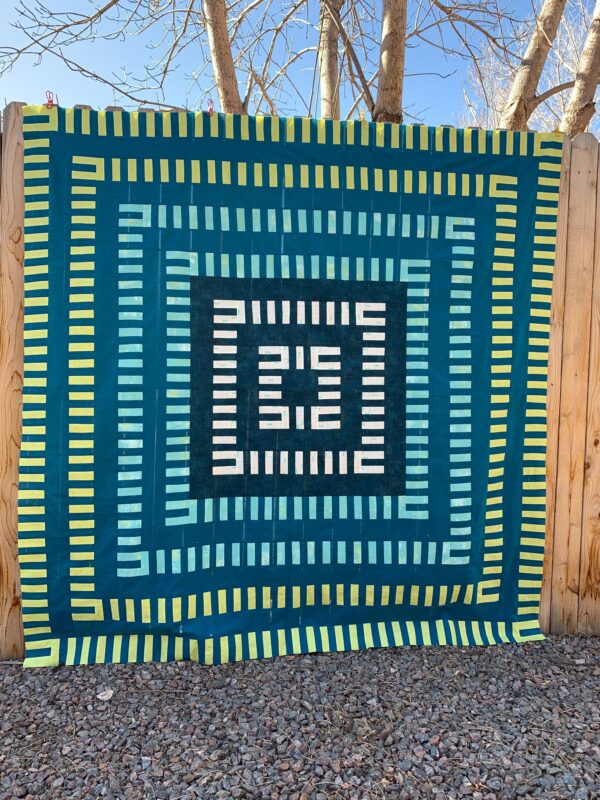 @quiltylass made this fun quilt using light to dark in shades of purple. Wonderful choice.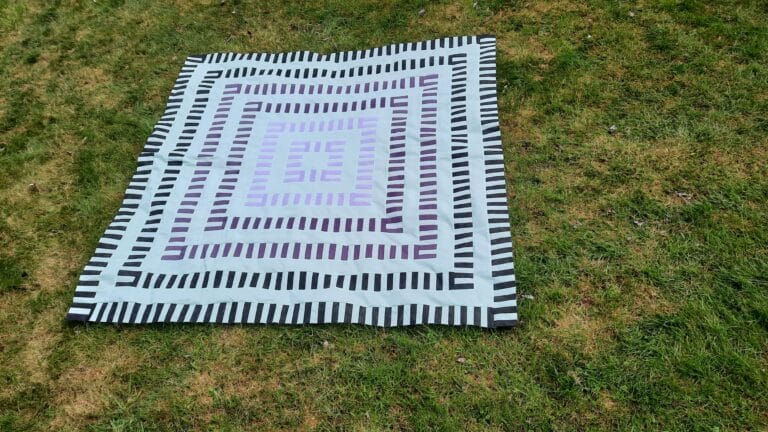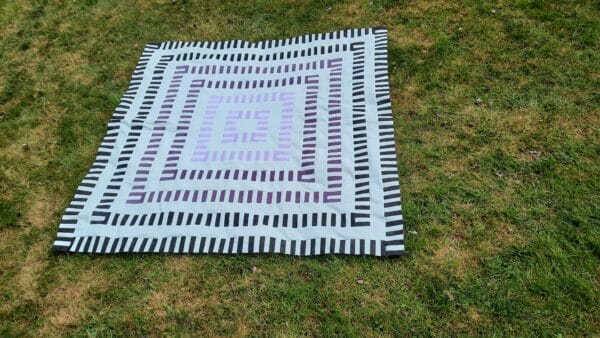 Now check out this fun black & white print background, isn't it fun. This 6 color version is by @sewmuchsarah. Notice she also did a scrappy version. Each round is two colors – light and dark. Fantastic!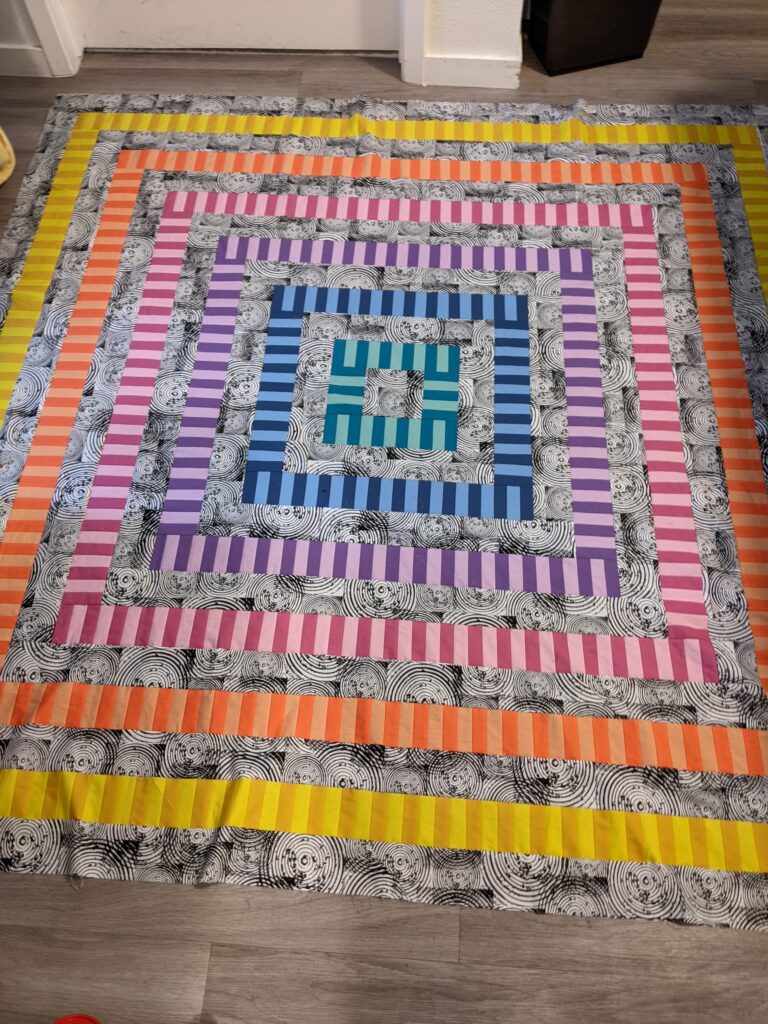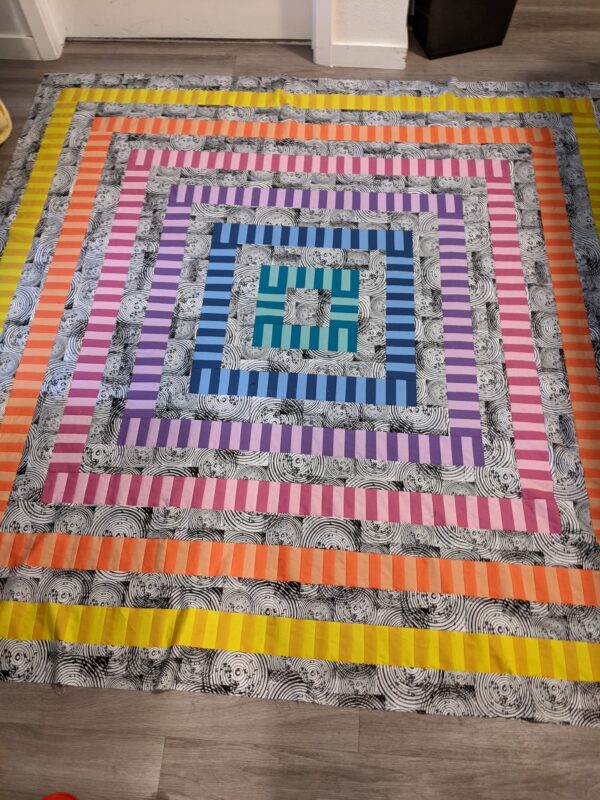 I have so much fun seeing what the testers choose for colors. @_vanessa.griffin_ went with a softer pallet of light green. Her color strips are floral prints. It really works and so do not be afraid to use prints in this quilt.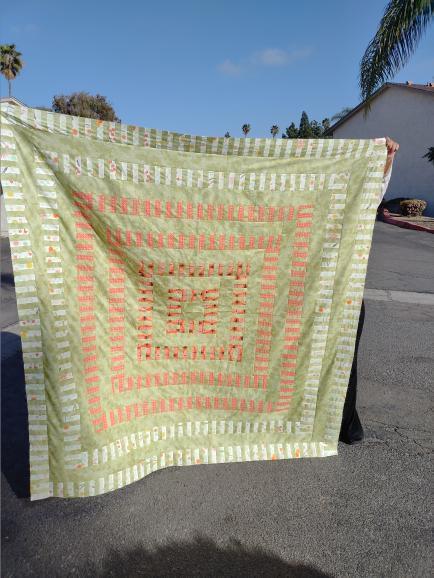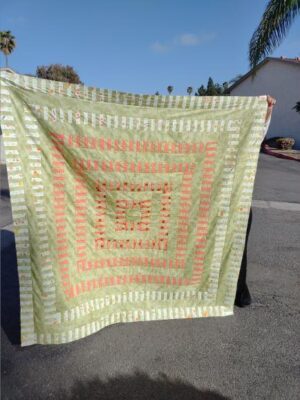 Talk about wow factor! @beanster.the.seamster is next. I like how she thinks outside the box and goes bold with this deep purple background. Beautiful.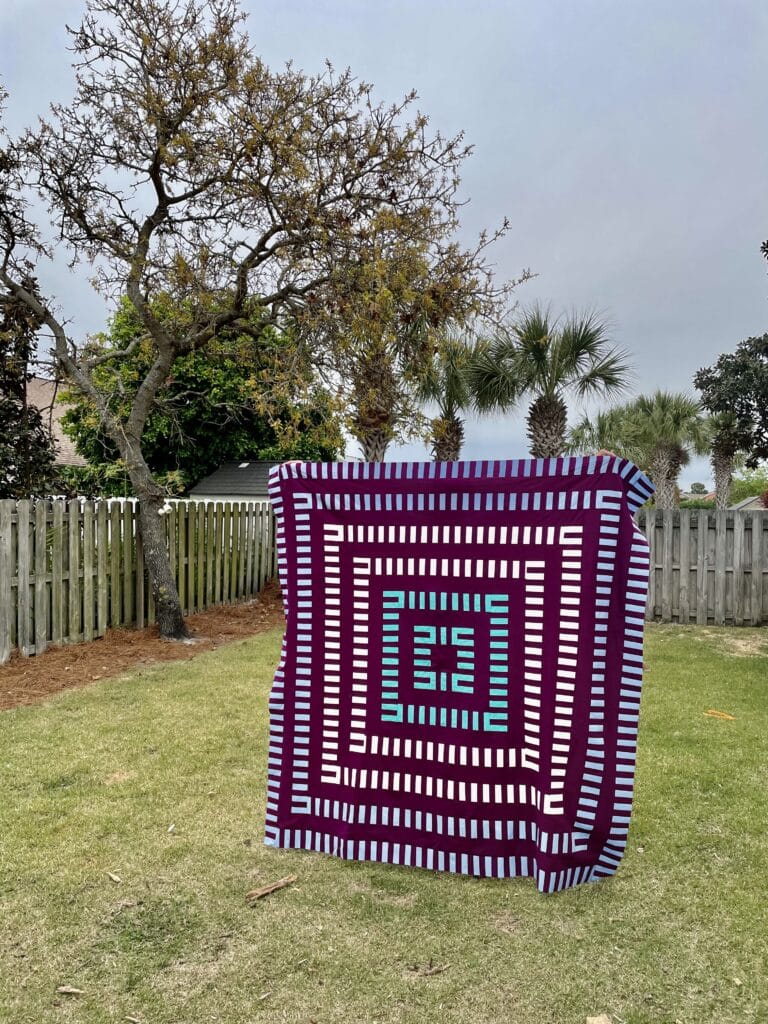 @rivera.debora made a great quilt, and took a fabulous picture. She opted for a smaller version and made 4 rows instead of six. This makes a perfect size baby quilt. If you love this as much as I do, check out @piecefabricco because it's been made into a kit, and you can purchase directly from them..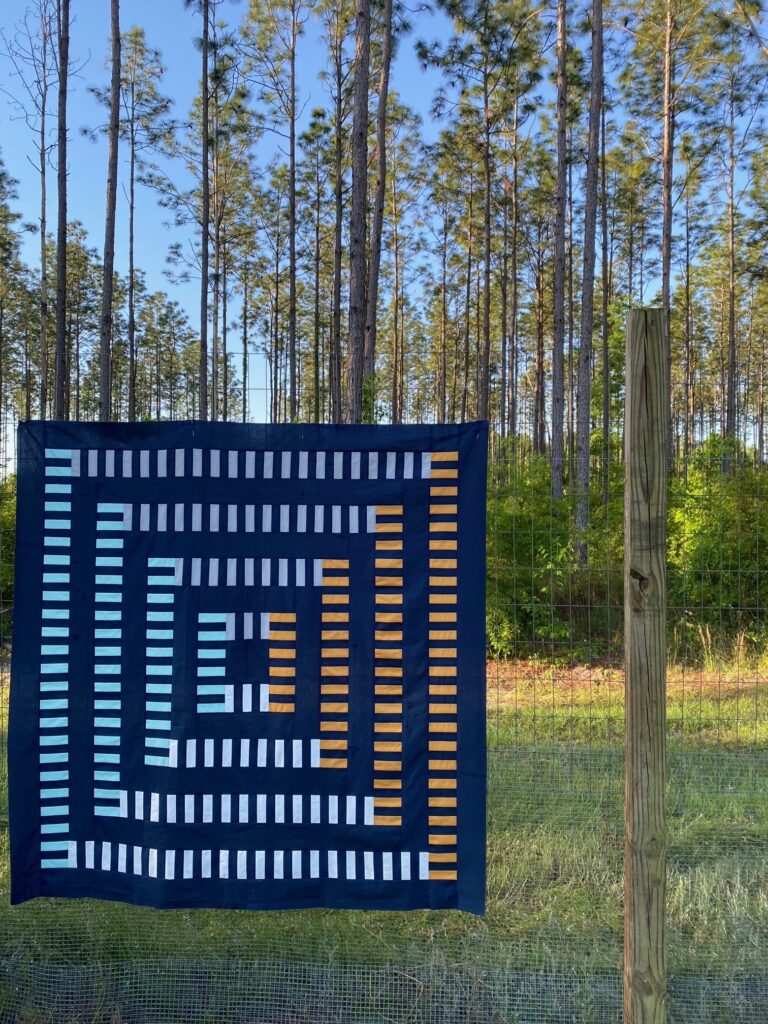 @myquiltingphd used purple floral print. This is the 6 color version, you can't tell in the picture, but the fabric is gorgeous and a bit metallic. It's so pretty!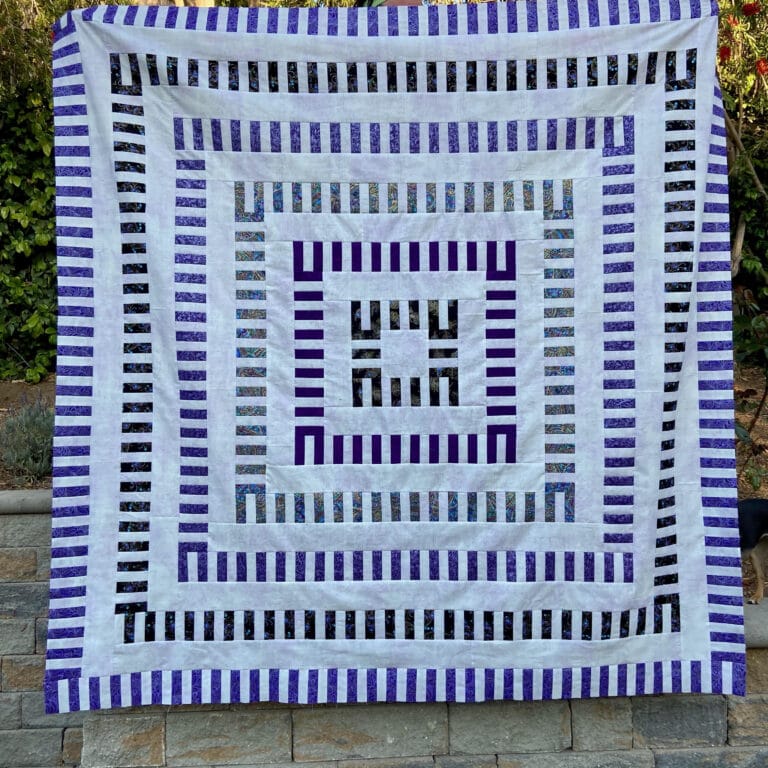 I hope this gives you inspiration for your Hum A Few Bars quilt. Don't be afraid of using dark fabric for the background, and don't shy away from prints. There are so many options to think about in making this quilt. Perhaps you want a solid background and all the rounds are one color instead of 3, 4, or 6 colors. Try it with just 1 color and it will look like the stripes are floating in the background. Let your mind go crazy!
To purchase your pattern, click here and you'll be taken to my Etsy shop!
Happy Quilting!
Mary Davis
Owner, Mary Go Round Quilts