FREE MOTION DESIGN SCHOOL
In this course, you'll go from feeling fearful and confused about free motion quilting to feeling confident and secure knowing you can finish your quilts by yourself on your home machine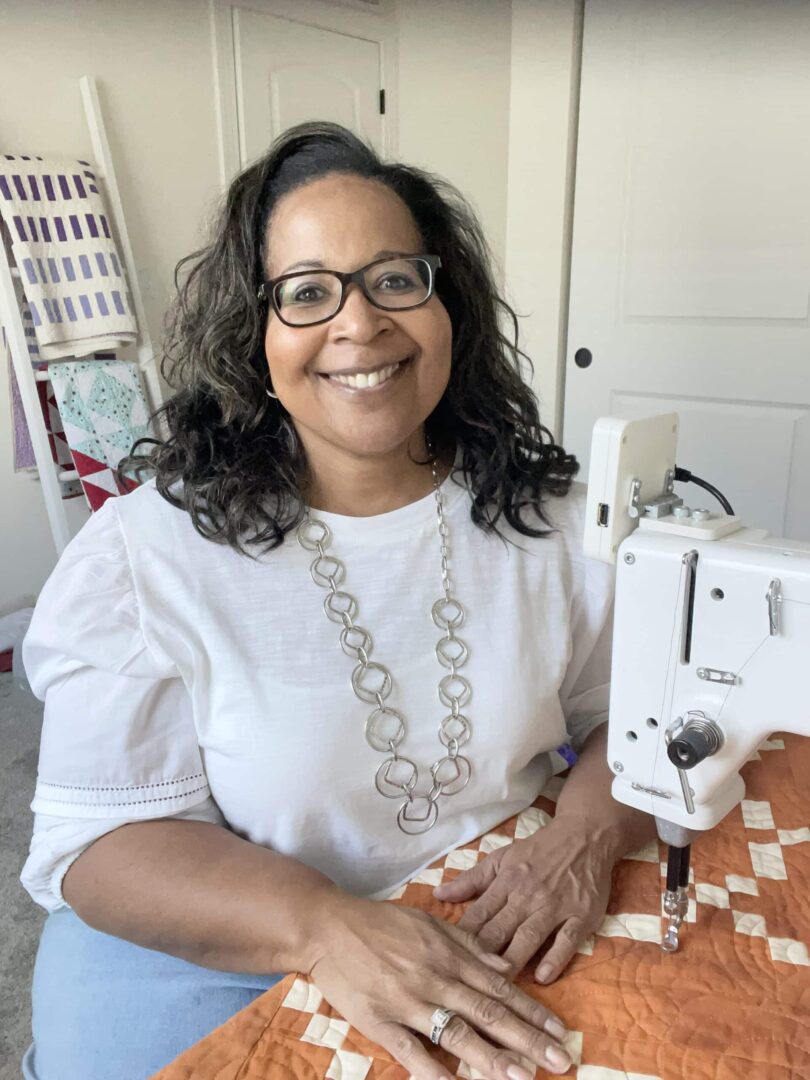 Before we get into all the details, let's see if Free Motion Design School is a good fit for you.
You're a beginner to intermediate free motion quilter and want a "one stop shop" learning platform.
You want to conquer your fear of free motion quilting.
You want to learn the tools and skills necessary to become a more confident free motion quilter.
You want to stop giving your hard earned money to someone else to finish your quilts.
You have a domestic sewing machine or long arm machine and want to know how to use it for free motion quilting.
Free Motion Design School will give you the tools, inspiration and support necessary along your journey to becoming a more confident and skilled free motion quilter in just ___ weeks.
By the end of this course, you will…
By the end of this course, you will have…
Learned how to make over 24 quilting designs, plus variations of each
Gained the confidence to free motion quilt all of your WIPs and future quilts
The knowledge and ability to form a quilting plan and know what to quilt where.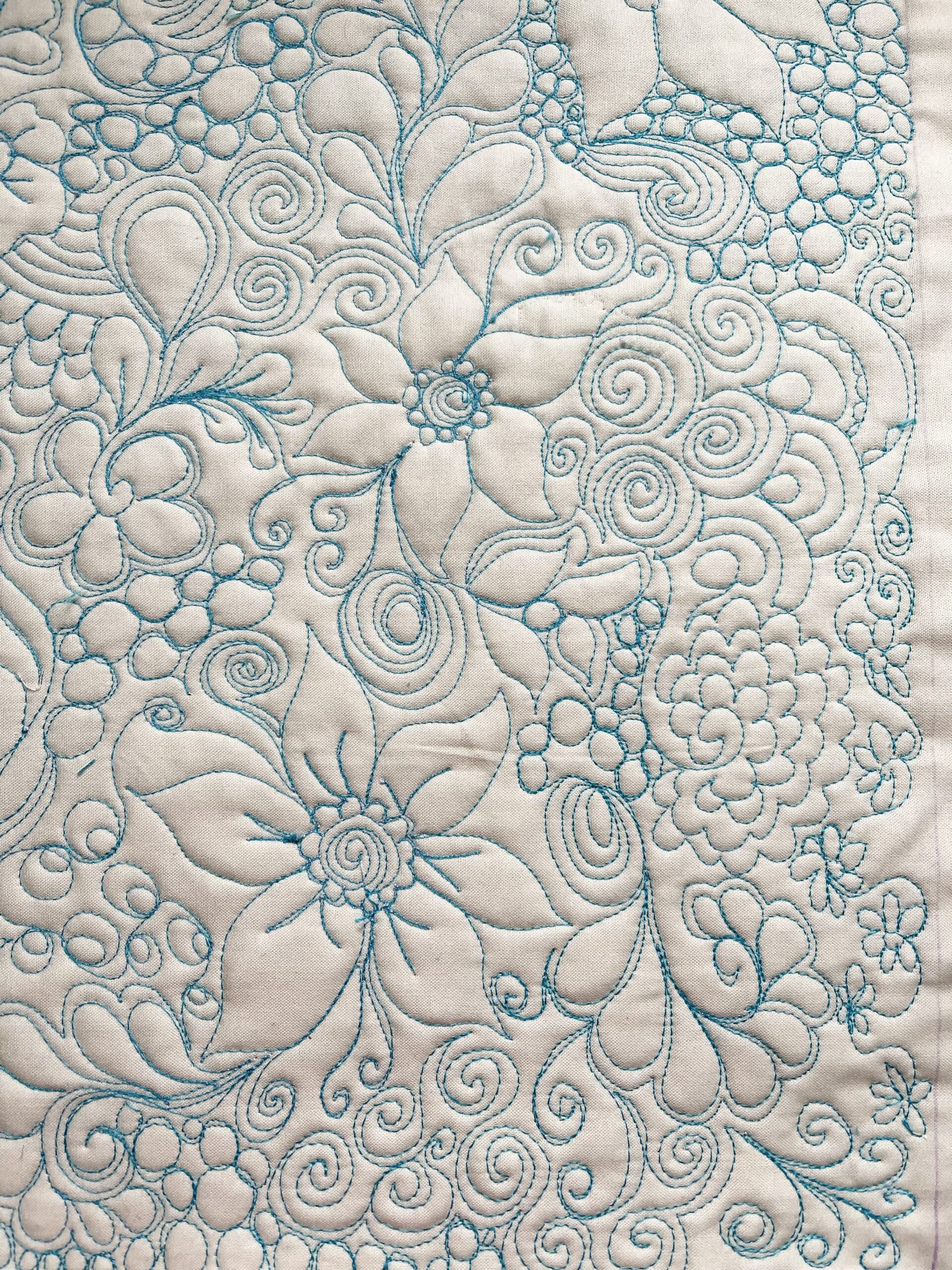 Here is what you'll get:
Module 1 – We will discuss the necessary tools and supplies to begin free motion quilting.  Whether on a domestic or a longarm, we will cover tension issues,  thread, needles, quilting feet and more.
Module 2 – The Basics.  These are the beginner-friendly designs are the foundation to more intricate designs that you will learn in later modules.
Module 3 – Pebbles and Swirls
Module 4 – Straight line designs
Module 5 – Arcs and clamshells
Module 6 – Feathers!
Module 7 – Filler designs
Module 8 – Florals and fancy
Module 9 – Intro to doodle quilting (? maybe)
Module 10 – Bonus – How do I quilt it?  I'll show you how to map out a quilt plan for your project and what to quilt where?
Learn ___ designs along with variations to all of them.  That's over _____ designs for you to choose from when finishing your quilt.  You will have the confidence to use all of these great designs on your quilts.
ARE YOU GETTING EXCITED YET?
How do I quilt it? One of the toughest decisions is deciding what to quilt where.  I will walk you through deciding which FMQ designs to use on your quilt.  We will talk about an all over design versus custom quilting.
Private Facebook group.  Connect with other members, share experiences, show your works in progress and ask questions.
Weekly Live Zoom Q&As – Every week I will be available to answer all of your questions during a live Zoom call.  If you have questions about the weekly content, this is the place to get the answers.
LIFETIME access to the course.  This course will be available for you to refer back to at any time.
Are you running around making yourself crazy trying to find those YouTube videos to learn you how to free motion quilt?  Have you spent money on digital quilting courses in the past, but you were not satisfied with the outcome?  Maybe you thought, heck, I can do this on my own – only to become frustrated and give up entirely?  Free Motion Design School was designed with you in mind.  By following my system, I'll teach you to do what I do.   I'll break it down into manageable sections, starting with the basics/foundational designs and moving to more intermediate free motion quilting motifs. I've done all the leg work for you and put all the knowledge into a one stop shop program.
Reason to Celebrate – Recap
Are you ready, my friend?  I know you can do this.
You'll receive ____ hours of instruction, all broken down into manageable lessons that you can view at you convenience.  (value $)
Live Q&A with Mary each week (value $)
Downloadable guides and templates (value $)
Private Facebook group (value $)
Lifetime access.  You can access this course at any time and have access to any course upgrades along the way.
COURSE VALUE = $1,200  YOU COST = $347
This is all about you. It is now your time to shine.  Be that person who can brag about the beautiful quilting you did yourself.  Submit your quilts into juried shows or exhibitions!  You'll be able to do ALL of this upon completion of this course with your newly gained confidence and skill set.
Enroll in Free Motion Design School Today
[X] Monthly Payments of               OR             A One-Time Payment of $347.00
[$XX]
Enroll + Pay Monthly                                              Pay in Full + Save
[Include Payment Logos (Visa, MC, Discover, AmEx etc) Here]
14 Day Risk Free Guarantee
Try the course out for two weeks.  You'll have access to Modules 1 and 2.  If you decide you do not want to continue this fun and exciting journey, you'll get your money back.  No questions asked.
An average full size quilt will cost approximately $175.00 to have it finished by a longarmer.  Wouldn't you rather keep that money for other things you or your family may need? Perhaps you're saving for a vacation, or to pay off debt.  Free motion quilting your own quilts will put money back in your wallet.
You'll be the envy of everyone at your next guild meeting's show-n-tell when you say you did all the free motion quilting yourself!  You'll be basking in a sea of compliments.  And Free Motion Design School will help you achieve your free motion quilting des
And I'll be here for you every step of the way during your journey from fear to confidence.
Free Motion Design School is available for you to work at your own pace.  Content will be on a drip schedule.  That means every Monday, for ___ weeks, you will receive a new lesson with the current week's content. If you are not able to watch the current module, that's okay.  You can access the course from anywhere at any time.  No matter where you live, you fit the lessons in around your schedule.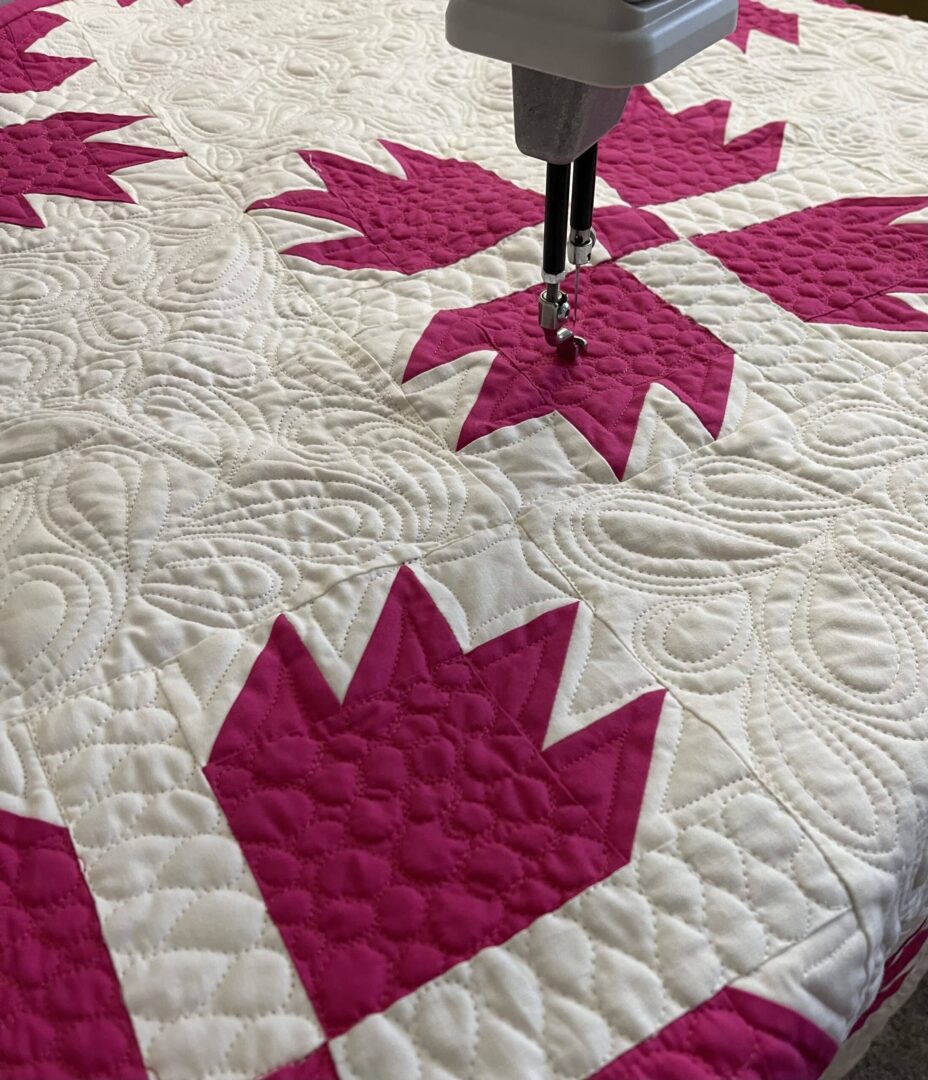 P.S. – I know what you're thinking, "I'm not good enough", or "I'm not an artistic person," of "I could never do that."  But guess what? You don't need an art degree or any special training to be creative. It's already inside you – waiting to come out with the proper guidance and instruction you will get in Free Motion Design School.  Give it a try for two weeks, and if you are not happy with what you've learned, and you're ready to throw in the towel, I'll give you your money back.  No questions asked.  But if you stick with me, I'll be here teaching you what I know best, free motion quilting.  I'm ready to bring out your inner confident free motion quilter!  If you're ready to sign up, CLICK HERE.
Frequently Asked Questions
How will I access the course?
After you sign up, you'll be given instructions on how to set up your user account in the Learn Dash platform.
2.  Will all of the lessons be released at one time?
No.  The lessons are on a drip schedule.  This means, new content is released weekly throughout the course.  You may go back and view previous lessons, but you cannot access future lessons until they have been dripped pursuant to the course schedule.
3.  How long will I be able to access the content after the course ends?
You have lifetime access.  This means that as long as the course is active, you can go back and view the content at any time.  You will also have complete access to any new content or bonuses that are added after your course ends.
 I live outside of the U.S., can I still take the class?
Yes.  You can access the material from anywhere.
I have a busy schedule and won't be able to keep up with each weeks' lessons.
Absolutely.  This course is designed for you to work at your own pace as your schedule permits.  Remember, you have lifetime access to the content.
What if I have questions after the course starts?
We will have weekly live Zoom calls where Mary will answer any free motion quilting questions for you.