I'm happy to take part in this year's UFO-vember organized by Bobbie Gentili of The Geeky Bobbin.   Bobbie started this to help us all get our UFOs accounted for.  This is the time we take Inventory of our projects, Resume a project that your put aside, Rework a project into something new or Rehome and gift it to a lucky individual.  I decided to select Inventory.   When I went through my closet to start this task, I inevitably had lots of  moments where I say "oh, yeah, I remember that."
Buried beneath stacks of fabric and batting pieces were 12 unfinished quilt tops in my closet.  Here is my inventory of my UFO tops:
1.   Out of all of my UFO's, this is my favorite.  Amish With a Twist by  Nancy Rink.  This was part of a Block of the Month that I did back in 2019.  The finished quilt pattern calls for a large outer border with appliqued flowers in the corners.  Applique is not my strong suit, so I decided to put it aside for when I had the patience to give it a try.  I think 2022 you'll see the completed quilt.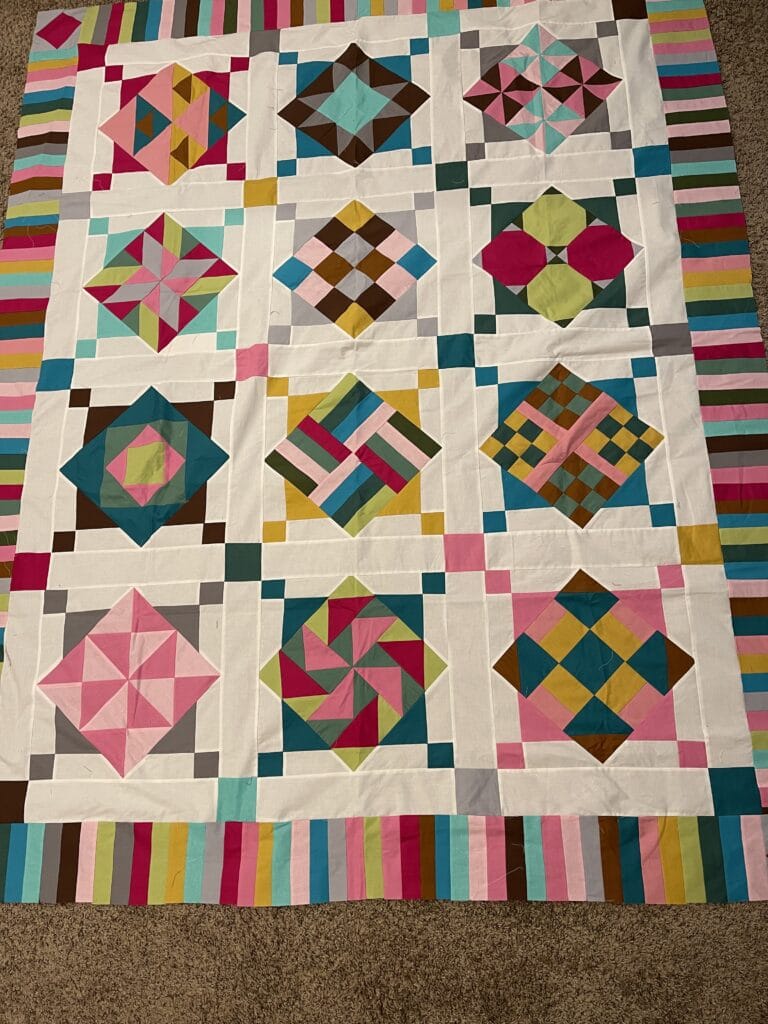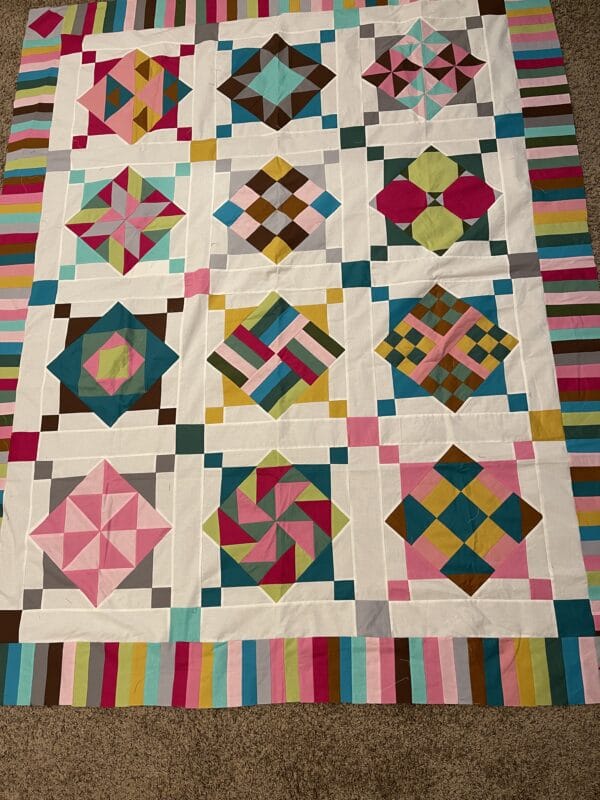 2.  This lovely is called Fan Faire by Krista Moser.  I had so much fun with this one.  It was another Block of the Month in 2019 with a local quilt shop.  It came with a large diamond ruler that you need to make the blocks.  What I loved about this was all the designs you could create with that one diamond ruler and strips of fabric.  It's a beauty.  Deserves to be completed.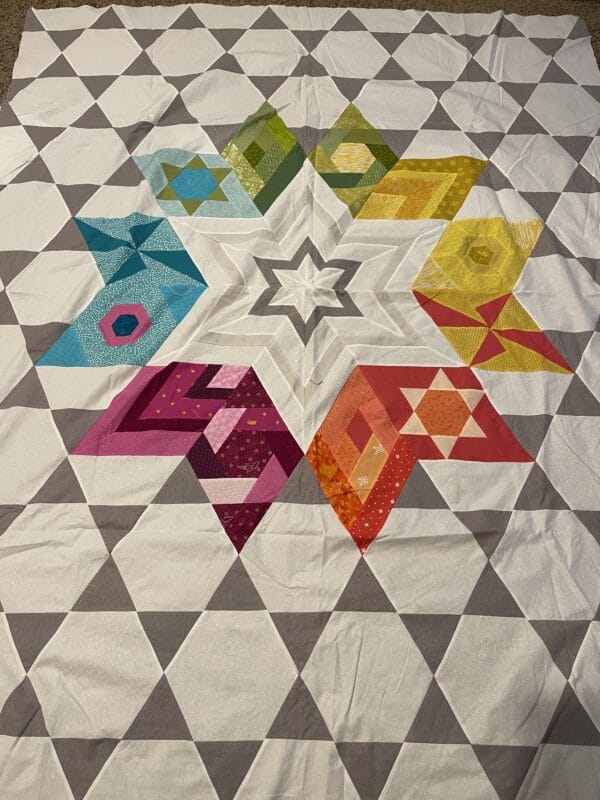 3.  I had my eye on this pattern by Suzy Quilts for a long time.  When I finally bought the Campfire Quilt pattern, I made 4 of them!  It was such a fast easy make.  However, when I decided to make the largest size in a color that wasn't my favorite, once it was completed, I'd lost interest all together.  The quilt is huge.  My plan is to complete and sell in my shop.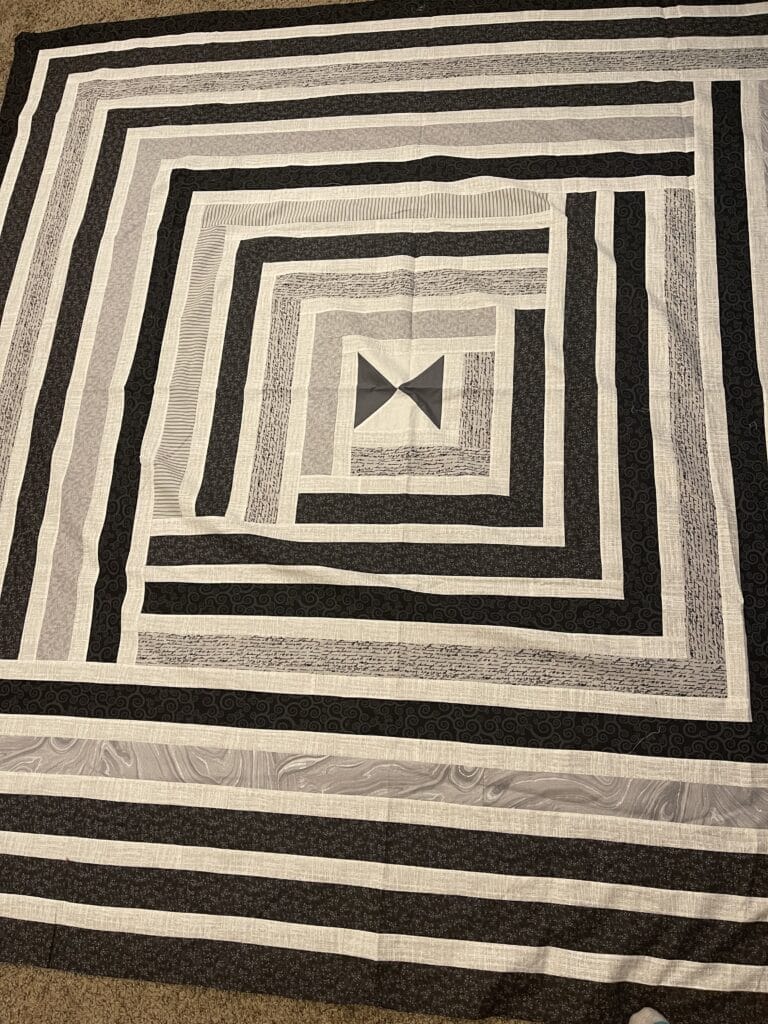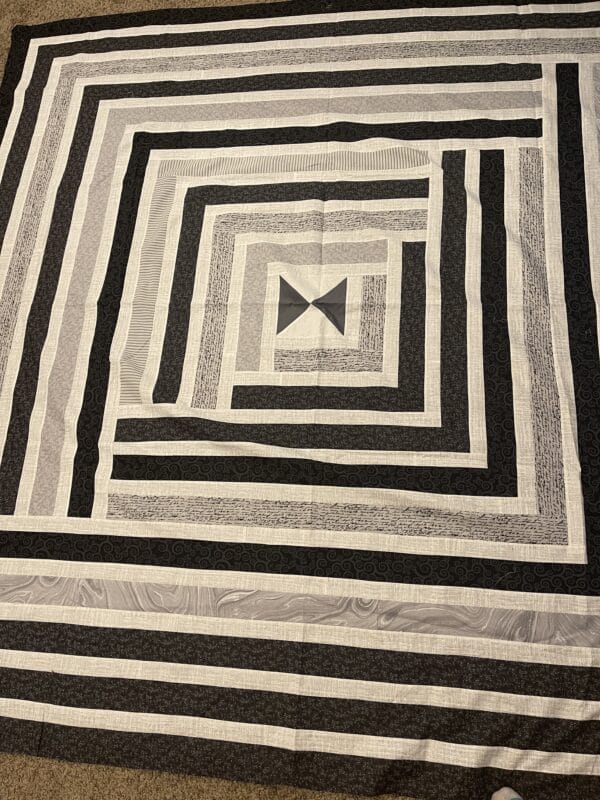 4.  This one is the oldest UFO that I own.  I found the pattern in an old Thimbleberries book.  I made the queen size to fit my bed.  However, as is standard for me, I never added the borders.  The problem now is finding the right shade to match the circa 1996  fabric it's made out of.  Love this one so much, and when I see it now, I understand what drew me to this design.  Flowers!  Going to the top of my to-do pile.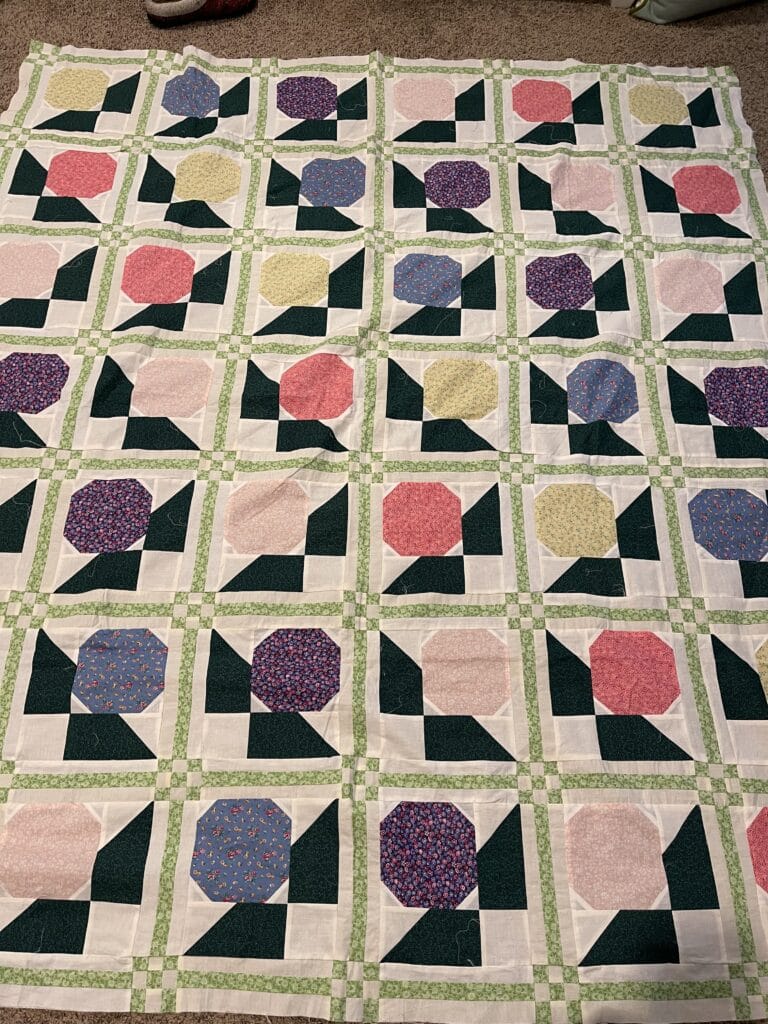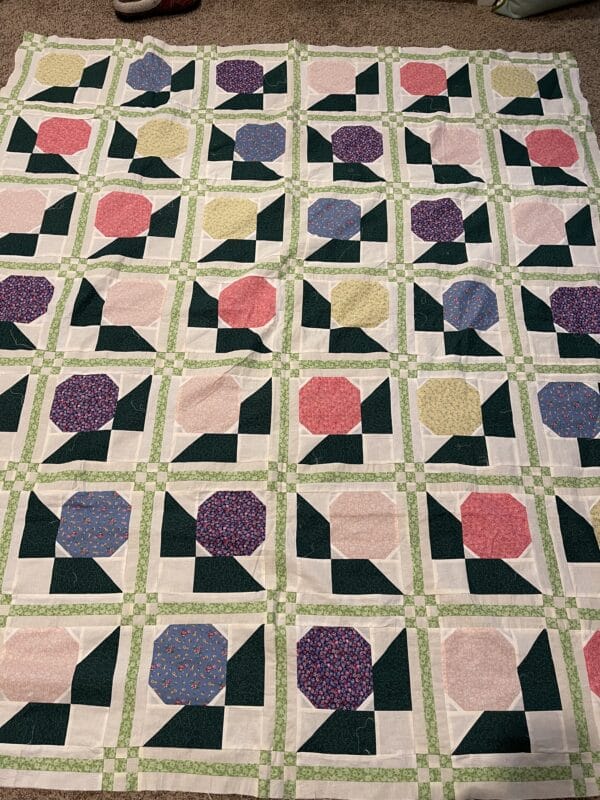 5.  Now, this is one of those, "what the heck was I thinking" quilts.  I was thinking a brick design, but it's not entirely what I envisioned.  It pains me to even look at it.  LOL Therefore, it was promptly folded up upon its completion and shoved in the closet for later.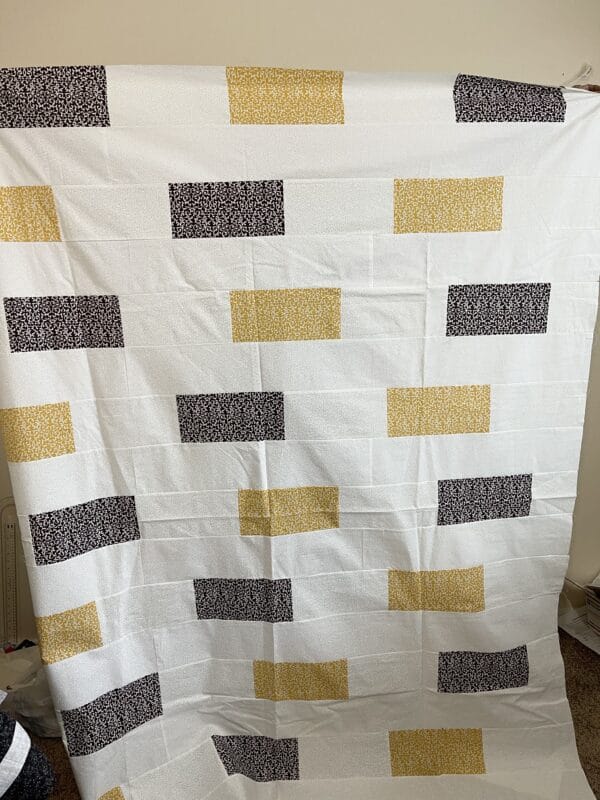 6.  The Irish chain.  A classic.  I love this pattern by Maple Cottage Designs.  So much so that I made four of them!  This is a twin size and I have no excuse for why I never finished it.  All the others I made were sold.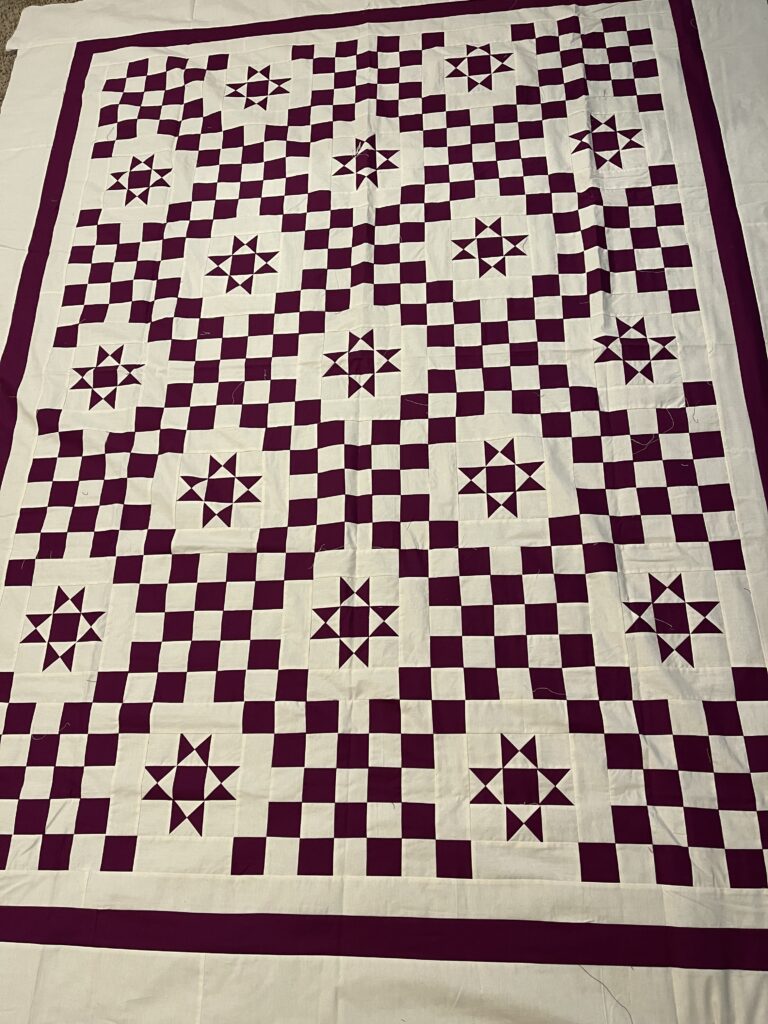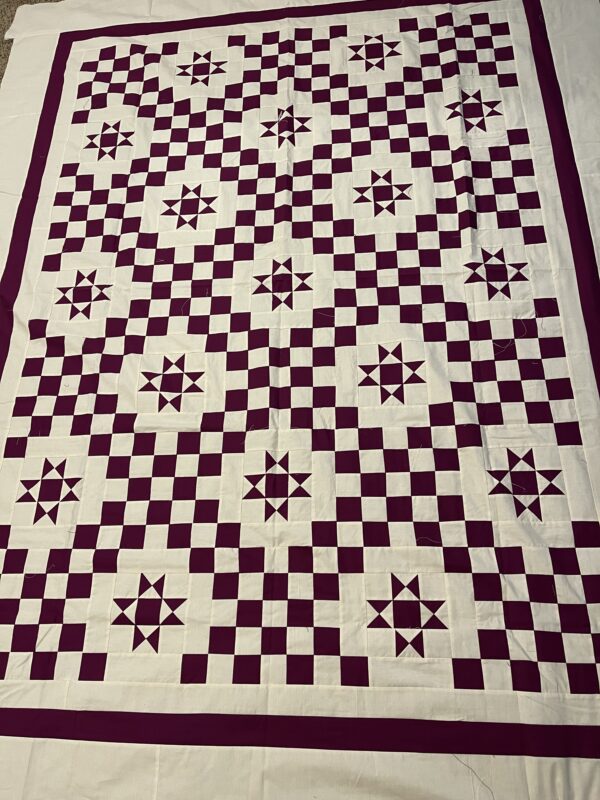 7.  The Monterrey quilt by Melissa De'Leon of  Quilt All The Things.  Melissa and this pattern were featured in the Mary Go Round Membership earlier this year.  A fun make and beginner FPP friendly.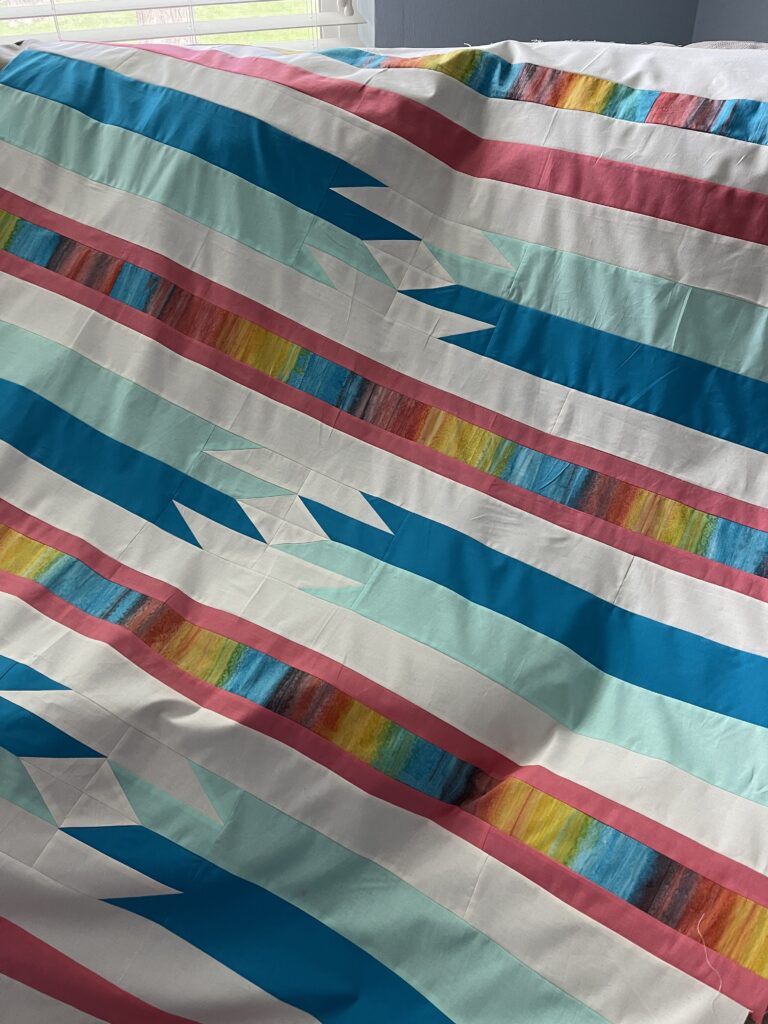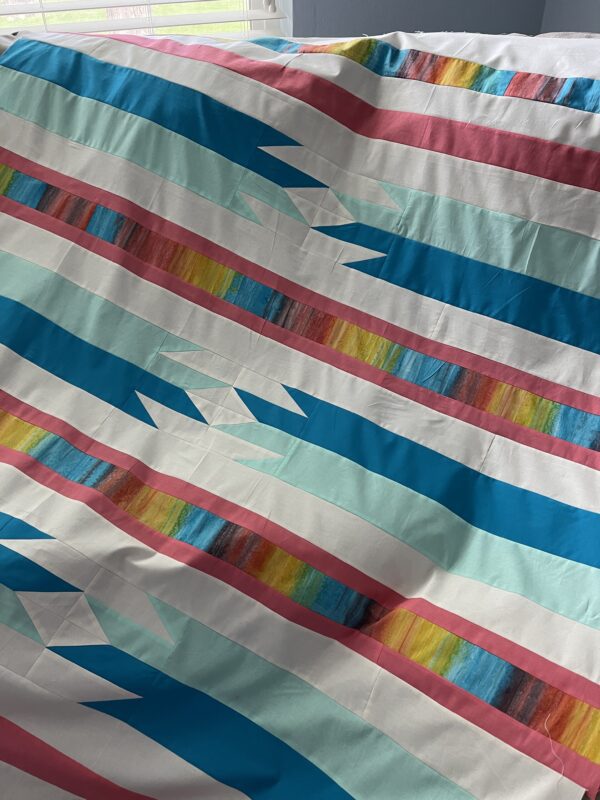 8.  This is one of two UFOs from designer Megan Lopez of The Athena Workshop.  She was also a featured designer in my membership and so talented.  I love all of her patterns.  This is the Jester quilt.  I took the time to take a good photo for Instagram, but never completed it.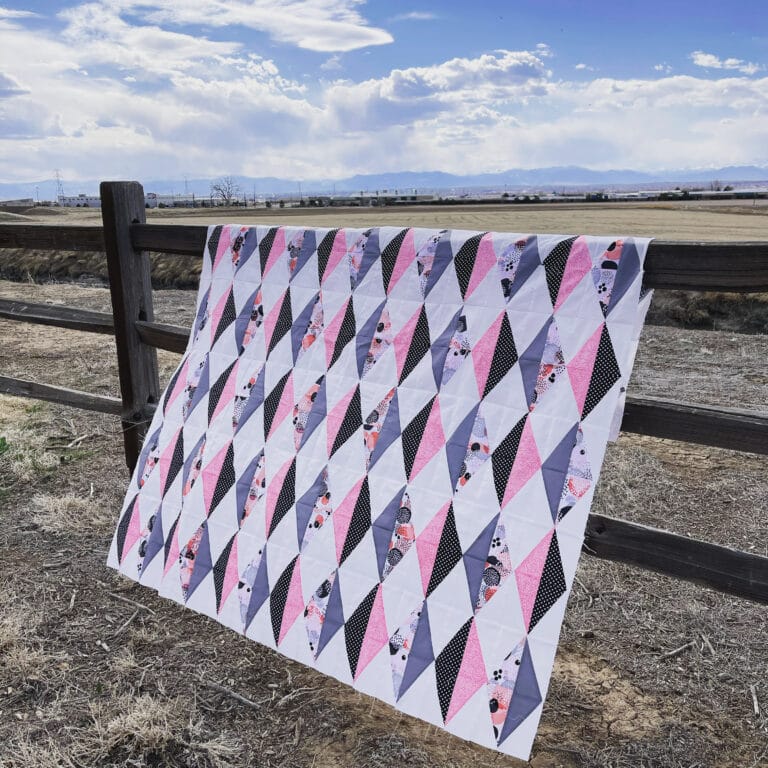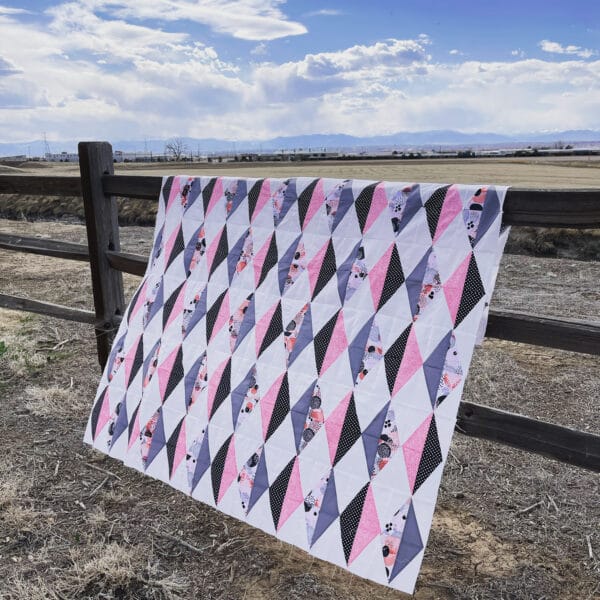 9.  Quilt number two from The Athena Workshop – the Supergalactic Quilt.  I tested this pattern for her and volunteered for the bed size.  Eek.  But look at how beautiful.  Was able to get a picture of this in fresh fallen snow.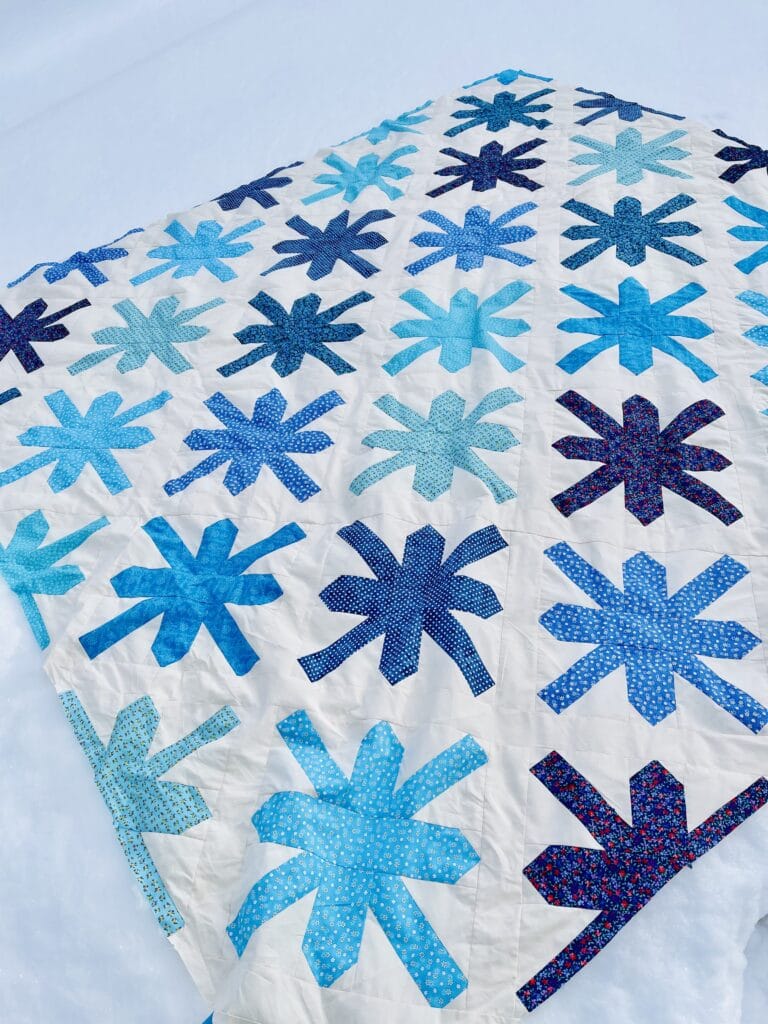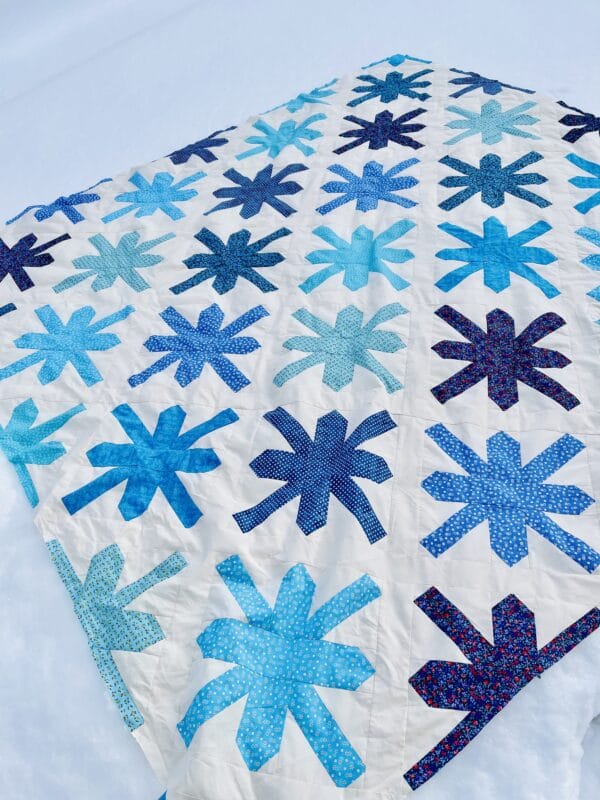 10.  I don't recall the name of this one.  I cannot find the pattern in my room.  This was a class I took at a local quilt shop.  Another one that had a special ruler.   I wasn't thrilled again with my choice of fabric, so as much as I like the pattern, after it was done, it was folded and put aside.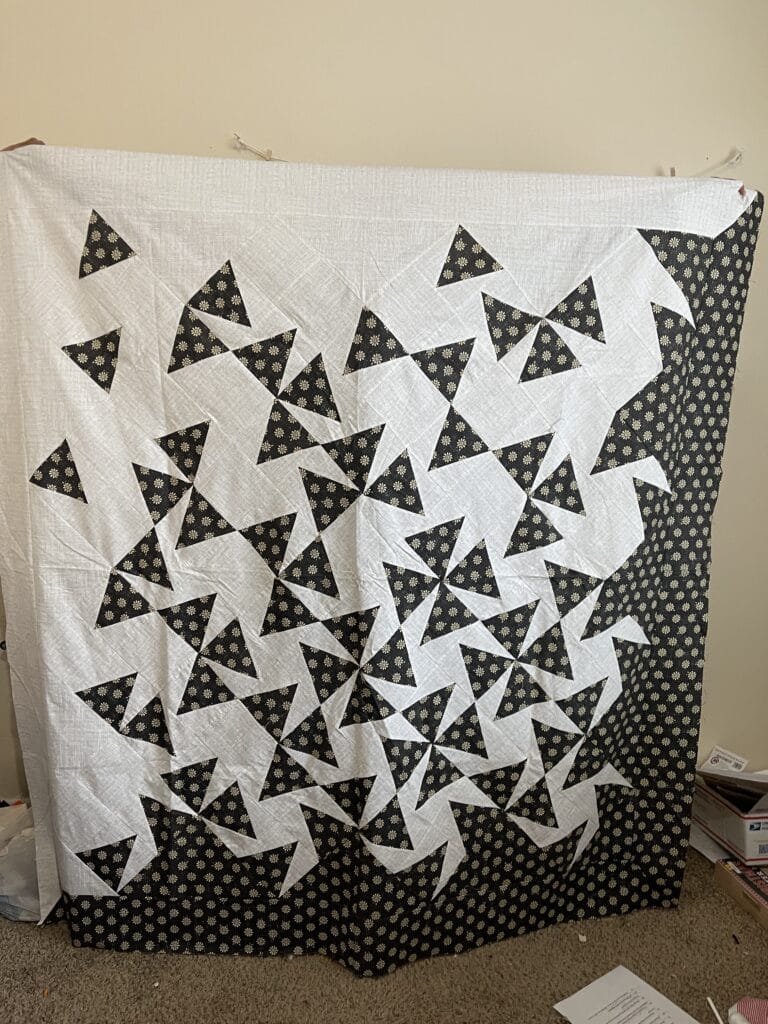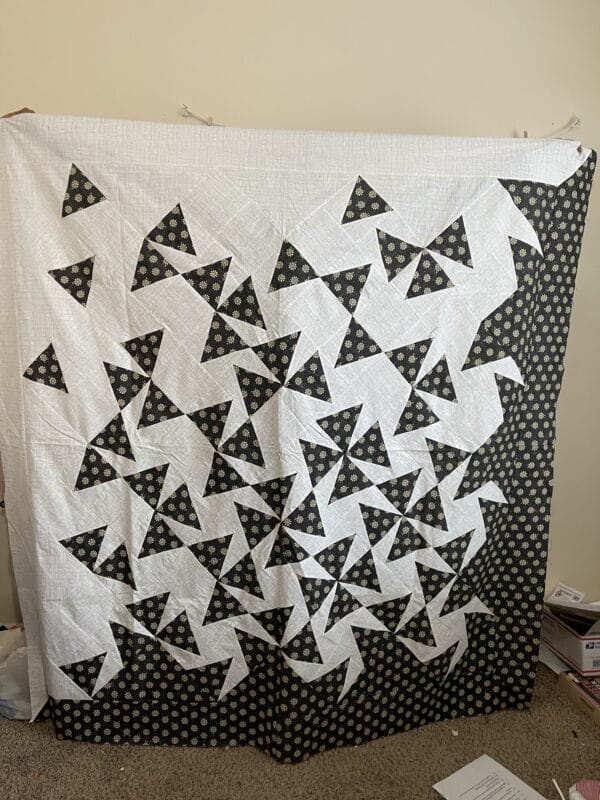 11.  Here is another quilt I tested for Life And Peace Quilt Co.  Titled Translated Quilt.  For this one I went bright with some Tula solids.  This was a great pattern and was so easy to make.  I had fun with this one.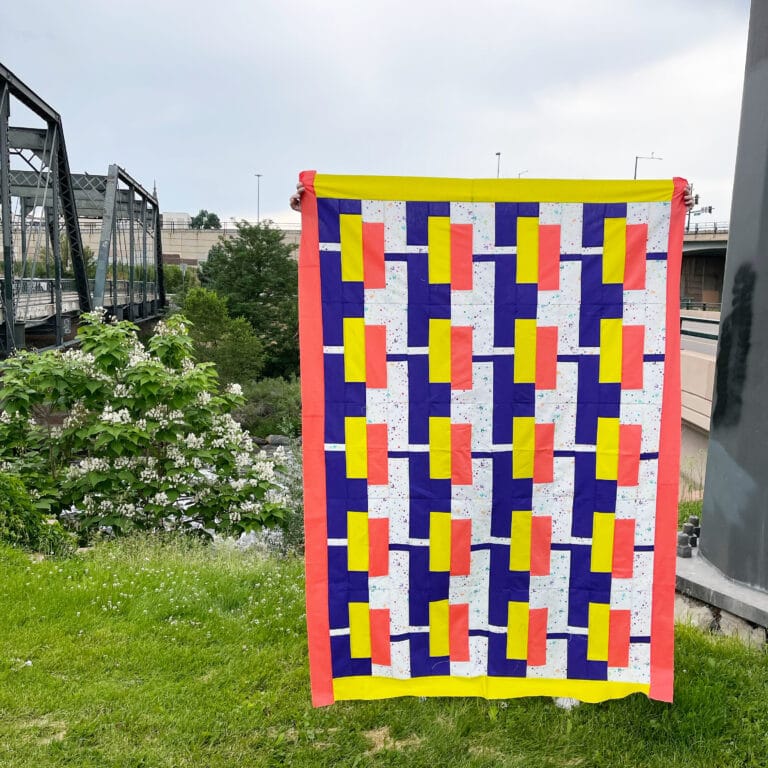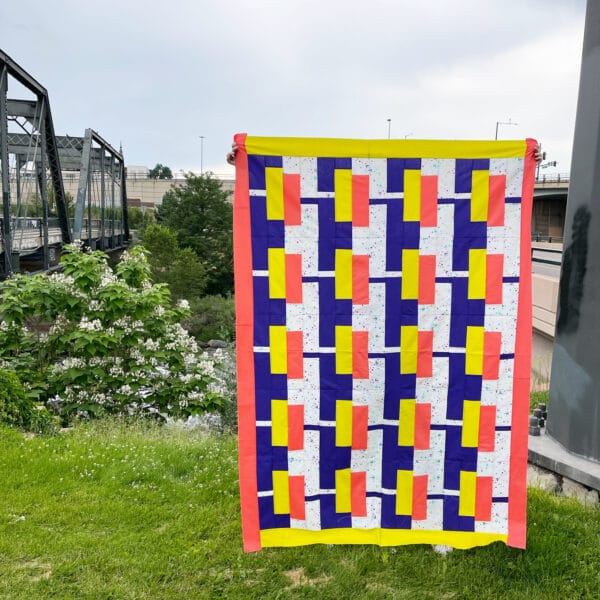 12.  And last, but not least, the Knitted Star quilt by Lo and Behold Stitchery.  I love this one.  Now if I can just finish it.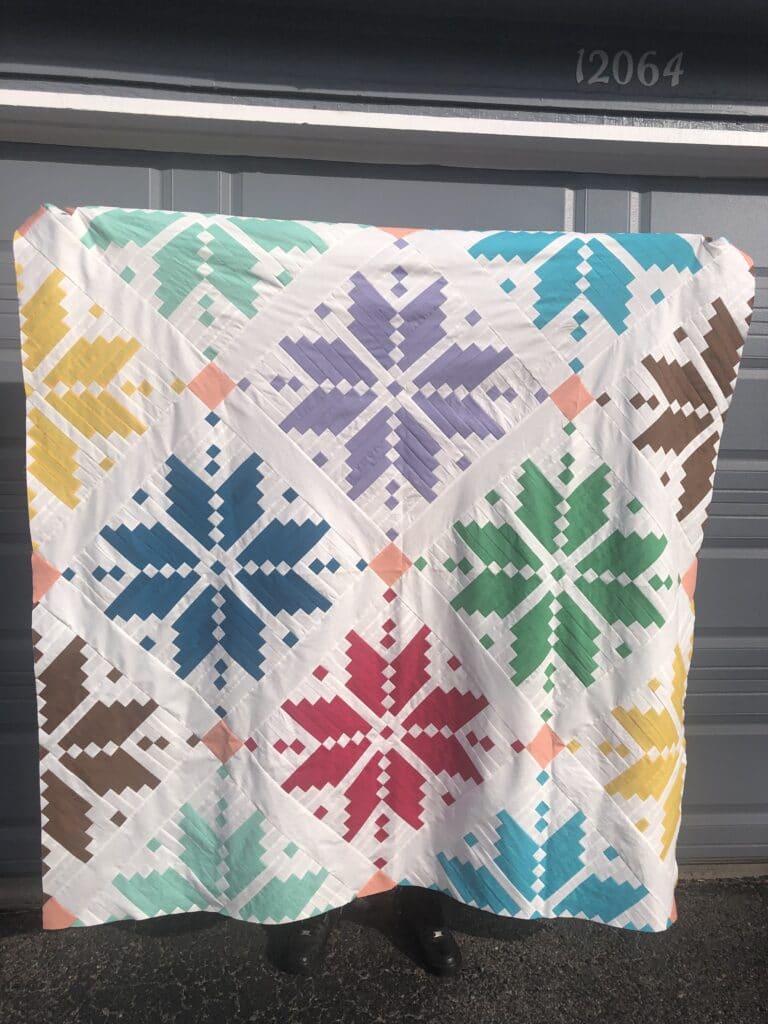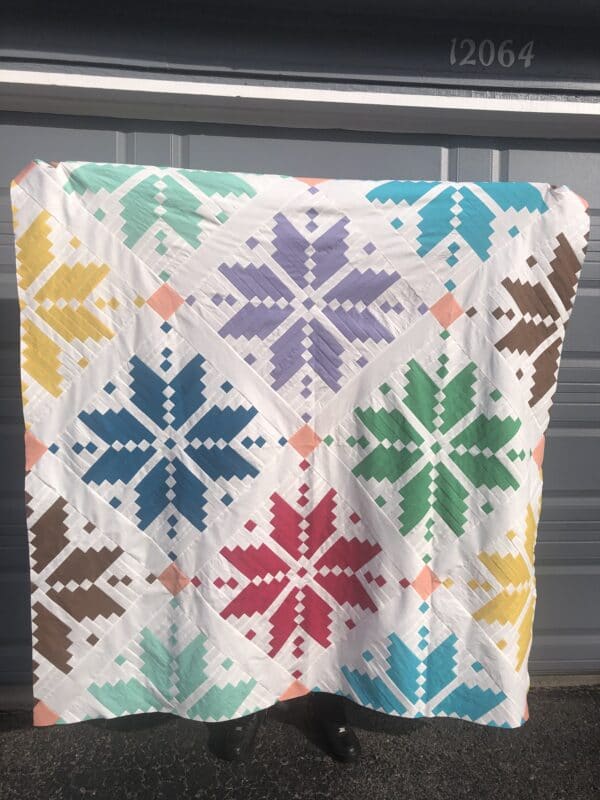 Okay well that's it — at least that's all I could find in my closet.  I don't doubt that there may be something I missed in the chaos of my fabric closet.  Thank you Bobbi, for organizing this UFOvember and helping me to face my projects that need to be completed.  Now, please visit the other shops on this blog hop and see their UFOvember Inventory, Remake, Resume and Re-home.  And you can join in the fun too!  Go check your sewing space and find something that's been sitting there forever and get to it.  Use the hashtag #ufovember on social media and follow everyone on this blog hop adventure.  The fun started on November 1 and will run through the end of the month – a new designer and post is featured each day!  Here's the list for you.  Check back often to see who is next.
November 1 – The Geeky Bobbin – http://geekybobbin.com
November 2 – Strawberry Creek Quilts – www.strawberrycreekquilts.com
November 3 – Katie Mae Quilts – www.katiemaequilts.com
November 4 – Pretty Piney Quilts – https://prettypiney.com/blog
November 5 – Mary Go Round Quilts – www.marygoroundquilts.com
November 6 – Exhausted Octopus – https://exhaustedoctopus.com/blog/
November 7 – Just Get It Done Quilts – https://www.justgetitdonequilts.com/blog
November 8 – By Hilary Jordan – https://byhilaryjordan.com
November 9 – Sew Hooked on Treasures – sewhookedontreasures.com
November 10 – Sunflower Stitcheries and Quilting – www.sunflowerstitcheries.com
November 11 – Blue Heron Quilting – https://www.blueheronquilting.shop/blog
November 12 – Carrington Creates – https://cbear7774.wixsite.com/thatsthewayitseams
November 13 – Sarah Goer Quilts – www.sarahgoerquilts.com
November 14 – Better Done Quilts – https://betterdonequilts.com
November 15 – Ashli Montgomery | Virginia'dele Smith – www.meandcoach.com
November 16 – Puppy Girl Designs –http://puppygirldesigns.com
November 17 – Lovingly, Lissa – lovinglylissa.com
November 18 – Art East Quilting Co – www.arteastquiltingco.com
November 19 – rjbosscher – www.rjbosscher.com
November 20 – Love to Color My World – http://lovetocolormyworld.blogspot.com/
November 21 – LynsAvenue – www.ynsavenue.com
November 22 – Quiltfox Design – https://www.quiltfox-design.com
November 23 – Maeberry Square – https://www.maeberrysquare.com
November 24 – Karen Bolan Designs – https://www.karenbolan.com/blog
November 25 – Tina1802 – www.tina1802.com
November 26 – Lazy Cozy Quilts –www.lazycozyquilts.com
November 27 – True Blue Quilts – www.truebluequilts.com
November 28 – The Scrappy Camper – www.thescrappycamper.com
November 29 – Sarah Ruiz Quilts – www.sarahruiz.com
November 30 – Lyric Art – www.LyricKinard.com